Real Madrid: Recent events push Mbappé closer to Bernabéu
Paris Saint-Germain's Kylian Mbappé may be attracting other big-name suitors, but LaLiga giants Real Madrid are confident of getting their man.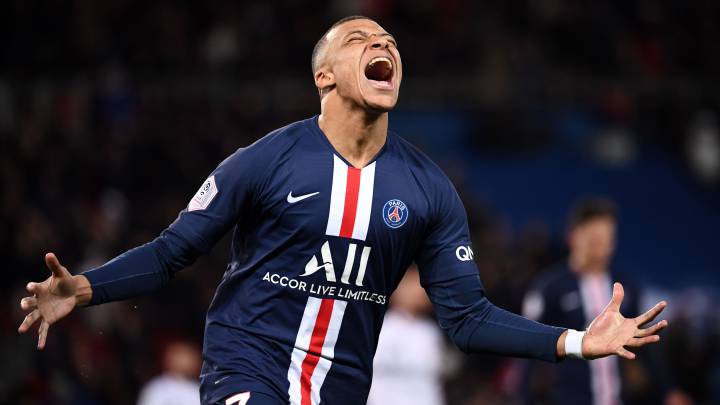 When it comes to Kylian Mbappé, Real Madrid's strategy is clear: they'll have to wait until summer 2021 before seeking his signing. Nothing has changed, despite suitors starting to queue up for the Paris Saint-Germain and France striker, with Le10 Sport reporting that Liverpool manager Jürgen Klopp has already called the player's father.
At Madrid, everything is being handled with the utmost caution and with an eagerness not to do anything behind PSG's back - after all, Los Blancos consider the Parisian club an ally, and Bernabéu president Florentino Pérez has an excellent relationship with his opposite number, Nasser Al-Khelaifi.
Madrid are remaining calm about the deal and are ready to show patience to get their man. They are confident Mbappé will stick to his guns on his refusal to renew a PSG contract that expires in 2022 - and recent events have only served to fuel optimism that the 21-year-old will end up in the Spanish capital.
Coronavirus financial crisis bites
The financial impact of the coronavirus crisis will make it impossible for PSG to offer Mbappé a higher salary than he would get at Real Madrid. So far, the Ligue 1 champions have announced that their stars will have to take a 50% pay cut as a result of the club's drop in revenue, while UEFA's financial-fair-play rules will only make a budget adjustment all the more pressing. Indeed, it's possible that PSG could be forced to sell key players to balance the books.
Mbappé unhappy with Leonardo as discord deepens
Diario AS recently revealed that PSG's sporting director, Leonardo, is ready to take a hardline position on Mbappé's future. If the club's contract overtures continue to fail, the Brazilian is threatening to simply hold the player to his current deal, even if it means leaving him out of Thomas Tuchel's team and ultimately losing him on a free. It's a tough stance that has come about in the wake of Mbappé's refusal to even negotiate two separate contract offers in recent months.
Leonardo's apparent willingness to sideline Mbappé if he doesn't renew has not gone down well with the striker's camp, and has served to deepen the sense of a divide between club and player. What's more, this comes against a backdrop of tension between Mbappé and head coach Tuchel, with whom he has had a number of high-profile clashes in recent times. If the German stays on as PSG boss - and that appears likely - the possibility of Mbappé swapping Paris for Madrid will only grow.
Release-clause plans scuppered
Before the coronavirus hit, PSG had been aiming to persuade Mbappé to sign by proposing a release clause similar to the 222m-euro figure which took Neymar to France from Barcelona in 2017. That could have worked against Madrid. Given the risk to a footballer of letting their contract get so near its end - for example, a serious injury would be catastrophic - Mbappé could have accepted such a plan, driving up the price Madrid would have to pay. In the current climate, though, no-one is likely to agree to a 200m-euro exit when even 100m may now be a stretch for buyers.
Zinedine Zidane
Zinedine Zidane is an emblematic figure in French football. Having been a key man in Les Bleus' World Cup and European Championship-winning sides of 1998 and 2000, and in Real Madrid's ninth European Cup victory in 2002, his three straight Champions League titles as Madrid boss have only served to raise his standing in the eyes of the French people. That Madrid have given Zidane assurances about his future as Bernabéu head coach certainly cannot hurt the club's chances of securing Mbappé's services. A phone call from 'Zizou' can have a huge effect…