Real Madrid sponsors in crisis
From Adidas to Sanitas, Real Madrid's sponsors have been hit hard by the coronavirus pandemic and the club fears the repurcussions could be detrimental.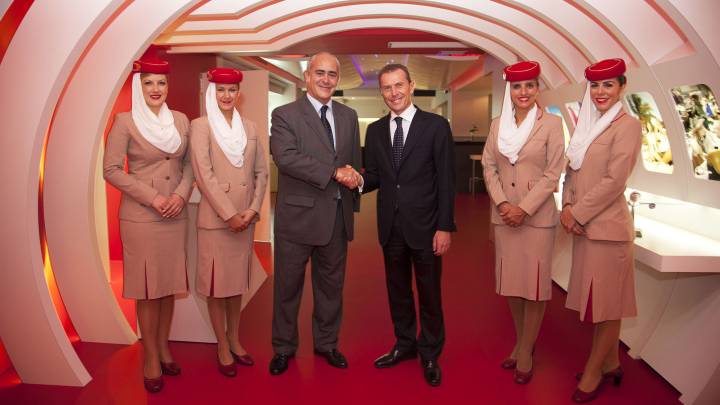 The largest revenue source for Real Madrid is not player sales, ticket sales or even television rights, but advertising and sponsorship, an area which was expected to generate €371 million, or 45% of income, in 2019-20.
However, like much else, advertising and sponsorship income could be severely impacted by the coronavirus crisis. Without football, sponsors are not receiving exposure and some of them are already struggling to survive. If they collapse, Real Madrid will not be shielded from the potential tsunami.
Practically no sponsors have escaped the Covid-19 crisis. Madrid currently has contracts with fourteen companies, with only Adidas and airline Emirates ranking as main sponsors, and, therefore, providing the bulk of the club's sponsorship income. The new contract signed in 2019 with Adidas runs until 2028 and is worth €100 million a year to the club – plus bonuses that can amount to €50 million a year. Meanwhile, shirt sponsor Emirates provides another €70 million per year.
Adidas and Emirates: Real Madrid sponsors in deep trouble
Amid the unprecedented financial fallout due to the coronavirus crisis, Adidas has been forced to seek a €2.4 billion loan from the German government, while there is also talk of a further €600 being raised from private banks. However, any lifeline offered from Angela Merkel will also require some severe financial adjustments.
Less transparent, but just as real, has been the United Arab Emirates' rescue of its national carrier, which pays to appear exclusively on Real Madrid's shirts with the slogan "Fly Emirates". The global airline industry is set to be hit hard, with predicted losses of €289 billion this year, according to the Financial Times. And Emirates is no exception. Almost all of its fleet is currently grounded as 105,000 of its employees have had to face 50% salary cuts.
Factories closing and industries suffocating
Of course, they are not the only Real Madrid sponsors hit by the coronavirus. The Volkswagen Group, which owns Madrid sponsor, Audi, is also facing severe adjustments (in Spain alone the company has cut production by 25%), while South Korean tire multinational Hankook and Mexican brewer Tecate (a regional sponsor) have had to temporarily close several of their factories.
Other sponsors in dire circumstances include Spanish private healthcare provider Sanitas, whose activity has fallen by 80%, and hotel chain, the Palladium Group, one of the main sponsors of the Real Madrid basketball team that contributes €7 million annually.
The situation regarding many of the club's sponsors has naturally got the Bernabéu board worried. "If there is no football soon, the sponsors may be looking for a refund of part of the money from their contracts or to make adjustments," David Hopkinson, the club's global director of sponsorship, admitted last month. If Madrid's sponsors continue in crisis, the impact for the club could, in turn, be detrimental.