Real Madrid: Camavinga signing up in the air
The cancellation of the season in France could scotch the midfielder's arrival at Real Madrid if Rennes' Champions League qualification is confirmed.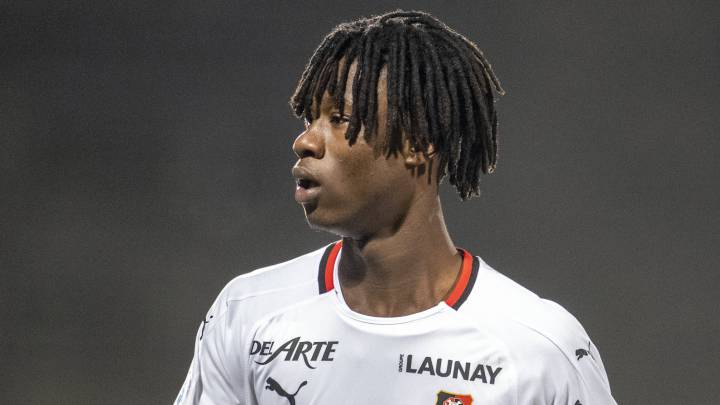 The potential transfer of Eduardo Camavinga to Real Madrid suffered a blow on Tuesday with the cancellation of Ligue 1 until September. Fans and clubs are awaiting news from the FFF and the LFP about who will be crowned champions, who will be relegated and who will be given spots in Europe next season. If Rennes, who sat in third place when the league was called to a halt, make it into the Champions League, it could scupper his arrival ahead of the 2020/21 season.
L'Equipe published and article last week saying Camavinga had reached an agreement with Olivier Letang, the president of Rennes, last February that he would stay if the club made it into the Champions League. The footballers' inner circle did not confirm the existence of this pact, however, and whether it was a spoken or verbal agreement. AS understand a deal would cost €50 million.
Three scenarios and all of them favour Rennes
Rennes are keen not to lose Camavinga too soon but would be able to invest a lot of money in a time when every club's finances are in trouble. Their coach, Julien Stéphan, said as much to AS: "I always give the advice to continue one season more for development. After one good season, you always have to confirm this jump in quality and for him it will be easier to do it here. I think they need to stay one or two more seasons before a jump to a huge team."
18


The three scenarios as L'Equipe sees it are: finish the league on matchday 27, as PSG and Strasbourg's week-28 fixture was yet to go ahead; leave the table as it is, despite the unplayed match; or calculate a points-per-game average for each club. None of those situations change anything for Rennes. Another alternative for Madrid would be to come to an agreement to sign him in 2021.