De Bruyne hints at exit if Champions League ban upheld
The Manchester City midfielder would be a prized capture for any team, and his most recent comments suggest two years out would be too much.
Kevin de Bruyne has a contract with Manchester City until 2023. On Saturday he spoke with Belgian newspaper HLN (Het Laatste Nieuws) and the 28-year-old midfielder did not flat out deny his departure from the club if the appeal against the two-year Champions League ban does not go well. By leaving the door open for a potential exit, Europe's elite clubs will all be in the market to sign one of the most talented players around.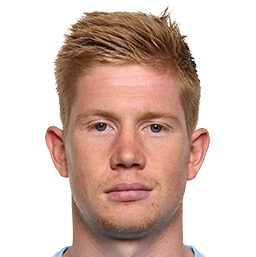 De Bruyne leaves everything open
"I'm just waiting," he replied. "The club has told us that they are going to appeal and that they are almost 100% sure that they are right. That's why I'm waiting to see what will happen. I trust my club. Once the statement is made, I'll review everything.
"Two years would be a long time, in the case of one year I might see. But I'm very happy with City. I play for one of the best teams in the world, I play in England, the most competitive league, and I like it.
"It continues to be a challenge to be the best and I need that too. What will be will be."
A decision based on Guardiola exiting too?
"Not particularly. I think Pep says he will take his year of contract anyway, then his contract ends. But I'm not going to let my decision depend on what Pep is doing.
"Of course I have already worked with other coaches and when Pep leaves, I have to continue working with someone else. But I haven't really paid much attention to that for the time being. There are more important things at the moment."
On a Premier League return soon
"My gut says that we may be able to train again within two weeks. The government wants to restart football as soon as possible to give people something.
"Everything will be finished without fans, I think. The financial aspect is far too important in the Premier League. If the season is not finished, it will cause serious problems."
"Everyone will be tested once we start playing again. I don't think the players are really afraid for themselves, but they are for their family. That is the main problem for many people."