Coronavirus: Summary of global news for Monday 4 May
Coronavirus live: latest global Covid-19 news - 4 May
Global summary and country reports
Total worldwide confirmed cases: 3.5 million +
Total worldwide confirmed deaths: 250,000 +
Consult the latest global figures from Johns Hopkins University
Global coronavirus deaths exceed quarter of a million
(Reuters) - Global coronavirus deaths reached 250,000 on Monday after recorded infections topped 3.5 million, a Reuters tally of official government data showed, although the rate of fatalities has slowed.
North America and European countries accounted for most of the new deaths and cases reported in recent days, but numbers were rising from smaller bases in Latin America, Africa and Russia.
Globally, there were 3,062 new deaths and 61,923 new cases over the past 24 hours, taking total cases to 3.58 million.
That easily exceeds the estimated 140,000 deaths worldwide in 2018 caused by measles, and compares with around 3 million to 5 million cases of severe illness caused annually by seasonal influenza, according to the World Health Organization (WHO).
While the current trajectory of COVID-19 falls far short of the 1918 Spanish flu, which infected an estimated 500 million people, killing at least 10% of patients, experts worry the available data is underplaying the true impact of the pandemic.
The concerns come as several countries begin to ease strict lockdowns that have been credited with helping contain the spread of the virus.
"We could easily have a second or a third wave because a lot of places aren't immune," Peter Collignon, an infectious diseases physician and microbiologist at Canberra Hospital, told Reuters. He noted the world was well short of herd immunity, which requires around 60% of the population to have recovered from the disease.
Trump administration pushing to rip global supply chains from China
(Reuters) - The Trump administration is "turbocharging" an initiative to remove global industrial supply chains from China as it weighs new tariffs to punish Beijing for its handling of the coronavirus outbreak, according to officials familiar with U.S. planning.
President Donald Trump, who has stepped up recent attacks on China ahead of the Nov. 3 U.S. presidential election, has long pledged to bring manufacturing back from overseas.
Now, economic destruction and the U.S. coronavirus death toll are driving a government-wide push to move U.S. production and supply chain dependency away from China, even if it goes to other more friendly nations instead, current and former senior U.S. administration officials said.
"We've been working on (reducing the reliance of our supply chains in China) over the last few years but we are now turbo-charging that initiative," Keith Krach, undersecretary for Economic Growth, Energy and the Environment at the State Department told Reuters.
"I think it is essential to understand where the critical areas are and where critical bottlenecks exist," Krach said, adding that the matter was key to U.S. security and one the government could announce new action on soon.
Over a quarter of a million deaths
The total number of confirmed deaths from Covid-19 is now over 250,000, according to figures compiled by Johns Hopkins University.
The worst hit country has been the US, with 68,387 deaths, followed by Italy (29,079), the UK (28,734) and Spain (25,428).
The total number of actual deaths caused by the pandemic is very much higher than 250,000, because many coronavirus deaths are not being attributed to Covid-19 due to a lack of testing. Italy's institute for statistics today revealed some 11,600 'extra' unaccounted for deaths in the population between 21 February and 31 March. This situation is likely repeated in most countries.
Three Russian doctors treating Covid-19 have fallen out of windows in a week
An unsettling story from Buzzfeed, saying that three doctors treating the patients with the novel coronavirus have fallen from buildings in just one week. Two died, while a third is in a serious condition.
Alexander Shulepov, a doctor at an ambulance unit in Russia's western Voronezh region, complained on social media on 22 April about shortages of medical supplies and being forced to work despite testing positive for COVID-19. Ten days later, he fell from a hospital window under mysterious circumstances. He survived by fractured his skull.
Meanwhile on Friday, Yelena Nepomnyashchaya, the acting chief physician at a hospital for war veterans in the Siberian city of Krasnoyarsk, died from injuries sustained as a result of falling from her fifth-floor office window on April 25.
And the day before Natalya Lebedeva, the 48-year-old chief of the ambulance center in Zvyozdny near Moscow, died "as a result of an accident," according to a hospital statement. She was in hospital with Covid-19.
Fears overnight closure of New York subway will push homeless 'into the shadows'
Plans to close New York City's subways at night to disinfect trains during the coronavirus pandemic risk pushing hundreds of homeless people "further into the shadows", housing experts warned, calling for safe alternatives to house them.
The overnight closing of the transit system, which starts on Wednesday, will allow for daily cleaning of the trains for the essential workers using them while most city residents are staying at home, New York Gov. Andrew Cuomo said.
Police and outreach workers will handle the homeless people who have been sleeping on the subway - which has run around the clock for more than a century - Cuomo said at a weekend briefing, offering to get them services and shelter.
But most city-run shelters or other shared housing options fail to protect the homeless from the deadly respiratory virus, housing activists said, with little space to self-isolate and often unsanitary conditions.
"Increasing the number of outreach professionals and police officers is not going to address the problem if we don't give people somewhere safe to go," said Jacquelyn Simone, a policy analyst at the Coalition for the Homeless, an advocacy group.
"If none of those people are offering them that very basic resource, that person is going to remain on the street in all likelhood ... they might actually get pushed further into the shadows," she said.
Restaurant owners stage protest in Germany
While restaurants in Finland will be able to reopen next month, in Germany, like in many other countries, the sector has been suffering from the crisis. Restaurants have remained closed since 22 March and many are struggling to meet rent payments, pay staff and been forced to throw away stock. In Rostock and Dresden, a silent protest was staged with hotel and restaurant owners lining up 200 chairs along the promenade to highlight the business they have lost.
Finland restaurants to reopen in June
Finland will lift some coronavirus restrictions, allowing restaurants to reopen and public services including libraries and sports facilities to start operating again from 1 June, the government said on Monday.
A ban on public meetings will be relaxed from a maximum of 10 people to 50 people from 1 June but emergency powers will be kept in place, it said. Essential travel to countries within the Schengen area will be allowed from 14 May, interior minister Maria Ohisalo said. Last week, the government decided to reopen schools from 13 May.
Norway pledges $1 billion to vaccines against Covid-19 and other diseases
Norway Prime Minister Erna Solberg said her country would give $1 billion to support the worldwide distribution of any vaccine developed against Covid-19, as well as vaccines against other diseases.
Oslo made the pledge as part of a donor conference held on Monday by the European Union to raise 7.5 billion euros ($8.23 billion) towards the testing, treatment and prevention of the respiratory disease caused by the novel coronavirus.
Solberg also said she regretted the United States, a close ally of Norway, had stopped funding the World Health Organization (WHO) and that it was not part of Monday's initiative, which also includes Canada, Japan and Saudi Arabia, the current chair of the G20 group of nations.
France discovers Covid-19 case from December
A French hospital which has retested old samples from pneumonia patients discovered that it treated a man who had Covid-19 as early as 27 December - nearly a month before the French government confirmed its first cases.
Yves Cohen, head of resuscitation at the Avicenne and Jean Verdier hospitals in the northern suburbs of Paris, told BFM TV that scientists had retested samples from 24 patients treated in December and January who tested negative for the flu. "Of the 24, we had one who was positive for Covid-19 on 27 December," he told the news channel on Sunday.
The samples had all initially been collected to detect flu using PCR tests, the same genetic screening process that can also be used to detect the presence of the novel coronavirus in patients infected at the time the sample is collected. Each sample was retested several times to ensure there were no errors, he added.
France, which has seen almost 25,000 people die from the virus since 1 March, confirmed its first three Covod-19 cases on 24 January, including two patients in Paris and another in the southwestern city of Bordeaux.
Cohen said it was too early to know if the patient whose Decemeber test was Covid-19 positive is France's 'patient zero'. Knowing who was the first is critical to understanding how the virus spread. Cohen said the patient had survived and that a first investigation to trace the first contamination has been carried out.
"He was sick for 15 days and infected his two children, but not his wife, who works in a supermarket. He was amazed, he didn't understand how he had been infected. We put the puzzle together and he had not made any trips. The only contact that he had was with his wife."
Italy Covid-19 death toll far higher than originally reported
The Italian National Statistics Institute (Istat) say that the coronavirus death toll in the country is far higher than reported, with an analysis that reveals thousands of extra mortalities that have not been attributed to Covid-19.
The report, released today, said that from the time of the first reported coronavirus deaths on 21 February to 31 March nationwide deaths were 39% higher compared with previous five years. Of these 25,354 "excess deaths" over what would have been expected in a normal, non-pandemic year, Covid-19 was the cause of 13,710, leaving 11,600 deaths unaccounted for.
The Istat said it was reasonable to attribute these deaths either to
- Covid-19, without ever being tested for the disease or
- problems in the health care system due to the pandemic, meaning they would not have died but for Covid-19.
Aldir Blanc dies of Covid-19
Brazilian composer and lyricist Aldir Blanc has died at the age of 73 from Covid-19. "Silence. The poet has died. What a sad day, Brazil", said journalist Flávia Oliveira.
The legend of 20th century Brazilian music had been in hospital in Rio de Janeiro since 10 April.
Dogs trained to deliver beers in Long Island
Mark and Karen Heuwetter own the Six Harbors Brewery and have trained their two Golden Retrievers Buddy and Barley to help them deliver beer to their customers during the coronavirus Covid-19 pandemic.
The dogs are fitted with a four pack of empty beer cans around their necks and meet customers at their doorstep while Mark and Karen carry the beer to deliver behind them. It has been comforting for the dogs who are enjoying the exercise and meeting people along the way.
The customers love seeing Buddy and Barley and enjoy petting and greeting them to go with their beer delivery.
Iran Covid-19 death toll rises to 6,277
The death toll from the new coronavirus outbreak in Iran rose by 74 in the past twenty four hours to 6,277, Health Ministry spokesman Kianush Jahanpur said in a statement on state TV on Monday. The total number of diagnosed cases of new coronavirus in Iran, one of the countries hardest hit by the outbreak in the Middle East, has reached 98,647, he said.
Japan extends state of emergency to 31 May
Japan's Prime Minister Shinzo Abe said on Monday that the country's national state of emergency has been extended to 31 May.
Abe will consider lifting the state of emergency before 31 May if expert advisors decide that is possible based on detailed analysis of regional infection trends, he said at a meeting of the government's coronavirus task force.
He said his advisors said that Japan had not seen the explosive surge in infections seen in some countries overseas, but the number of new infection cases had not fallen enough and there were regions where the medical system was facing strains. "Based on that view, I will extend the state of emergency that was announced on 7 April until 31 May," Abe said, adding that it would remain nationwide.
For the 13 prefectures including Tokyo and Osaka that have been hardest hit, a target of reducing person-to-person contacts by 80% would remain in place, Abe said.
Japan will move gradually to a framework that will combine prevention of the spread of infections with maintaining social and economic activities, he added.
Even though Japan has not seen a huge outbreak compared with some global hotspots, the coronavirus has infected 15,913 people and killed 542 in the country, according to public broadcaster NHK.
Global Covid-19 cases reach 3.5 million
Over 3.5 million people across the world have tested positive for Covid-19, the disease caused by the novel coronavirus, according to this morning's updated figures from Johns Hopkins University.
As of today, 3,522,593 positive cases have been reported across the world and 247,630 lives have been lost. In total, 1,129,834 patients have recovered. The United States has recorded the most number of cases with 1,158,341 cases and 67,686 deaths), followed by Spain (217,466 cases), Italy (210,717 cases), and the United Kingdom (187,840 cases).
Spain register 164 deaths over the past 24 hours
Spain's Health Ministry confirmed this morning that 164 people had died from coronavirus-related causes during the past 24 hours - exactly the same number as the previous day, taking the country's total number of fatalities to 25,428. The total number of positive cases, as of Monday, stands at 218,011 while 121,343 have recovered from the virus.
Malasaña trending on social media in Spain, for the wrong reasons
The Malasaña neighbourhood in Madrid was one of the trending topics on social media in Spain this weekend. Spain, and in Madrid in particular, has been hit extremely hard by the coronavirus crisis with close to 13,500 deaths in the region and many people losing their jobs or having their livelihoods seriously affected by the damage the economy has suffered since lockdown was announced on 13 March and effective from the following day.
Which is why many were shocked at images of a minority of residents singing and dancing out in the street on Saturday - on the day when certain lockdown restrictions were lifted. Spain remains under lockdown but since Saturday, it is permitted to go outdoors for exercise or to walk between the hours of 06:00-10:00 in the morning, and 20:00-23:00 hours in the evening.
The videos of people partying which were shared on social media were damned as being insensitive and inappropriate, and shocking for a city which normally has a deep community spirit. The videos shown were not actually taken in Malasaña, which would have been celebrating the 2 de Mayo fiesta this weekend, but in Calle Conde Duque and in Lavapiés.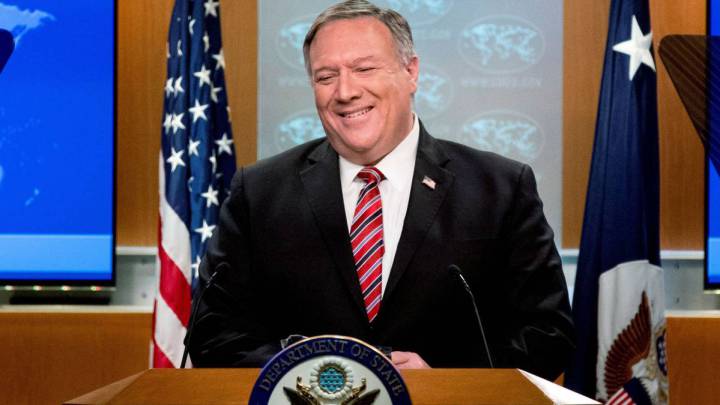 US intelligence investigating Covid-19's origins
US intelligence investigating Covid-19's origins
Donald Trump's administration is putting pressure on US intelligence agencies to provide evidence of the source of the coronavirus outbreak in the country.
Full story:
Coronavirus vaccine "by the end of the year", says Trump
United States president Donald Trump has predicted that there will be a coronavirus vaccine in a matter of months, telling a Fox News virtual town hall on Sunday: "I think we'll have a vaccine by the end of the year."
He added: "We'll have a vaccine much sooner rather than later."
This is despite experts suggesting we shouldn't expect a vaccine until around mid-2021.
Trump also predicted that around 100,000 people in the US would die from the coronavirus. "We're going to lose anywhere from 75, 80 to 100,000 people," he told Fox. However, he added that without the efforts of his administration, "the minimum we would have lost was a million two, a million four, a million five, that's the minimum."
So far, just under 68,000 people in the US have lost their lives to Covid-19.
Global summary and country reports
Total worldwide confirmed cases: 3.5 million +
Total worldwide confirmed deaths: 247,000 +
Consult the latest global figures from Johns Hopkins University
Coronavirus live coverage: welcome
Hello and welcome to our daily live blog on the global coronavirus pandemic, which has now registered over 3.5 million confirmed cases worldwide. We'll endeavour to bring you the latest developments and statistics as they emerge throughout the course of the day.