Real Madrid's Courtois: Awarding Barcelona LaLiga would be unfair
Thibaut Courtois says he would feel hard done by if the Covid-19 crisis led to Real Madrid's rivals being declared champions of an unfinished LaLiga season.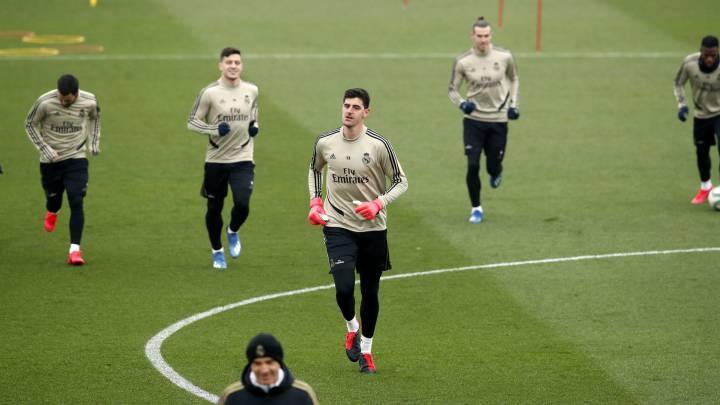 Real Madrid goalkeeper Thibaut Courtois says it would be unfair on Los Blancos if LaLiga were cancelled and Barcelona awarded the title as a result of the coronavirus crisis.
Barça were two points clear of arch rivals Madrid when LaLiga was suspended in March due to the pandemic, which has registered around 220,000 cases and 25,000 deaths in Spain.
Real Madrid have proved that they're better than Barcelona, says Courtois
"We're only two points off Barcelona and in the hunt to win the title, so it would be bad luck if the season were cancelled," Courtois told an interview with Belgian TV.
"If it were decided that Barcelona are champions, I don't think it would be fair. We've drawn with them in one game and beaten them in the other [in LaLiga this season]. We've shown that we're a better team than them."
He added: "When it comes to Liverpool and the Premier League, it would be a different matter - I could understand that, because they're I don't know how many points ahead of second."
"I think we should complete the season"
Courtois is keen for the campaign to be completed, but concedes that football can only resume if the conditions are right.
"I think we should complete the season, but of course safety is the most important thing. We have to observe protective measures and be 100% sure before playing, because you can be infected without showing symptoms.
"So you have to be careful who you have contact with. What happens if there's an infected player in another team? These are things that have to be considered, but I'd love to complete the season."
See also
Live coverage of the coronavirus crisis
You can keep up-to-date with the latest developments in the coronavirus pandemic by following our daily live blog. We also have dedicated rolling feeds covering the United States, India and Africa.