Coronavirus India: summary of Covid-19 news, Sunday 10 May
Coronavirus live India updates: cases, deaths and news, 10 May
India Covid-19 update: 04:30 IST on Monday 11 May (01:00 CEST)
According to the latest figures published by Johns Hopkins University,4,097,158 cases have been detected worldwide, with 282,495 deaths and 1,402,882 people now recovered.
In India, there have been 67,161 cases confirmed, 2,212 people have died and 20,969 people have recovered from the virus.
Almost 100 million download Aarogya tracking app
96 million people in India have signed up for the Aarogya Setu coronavirus tracking app since its launch at the start of April. The app is said to have helped the Indian government pinpoint 650 Covid-19 hotspots across the country.
An Indian police officer checks the body temperature of a migrant who arrived at Borivali Railway Station, Mumbai, to catch the train to Pratapgarh, in the state of Uttar Pradesh. (Photo: EFE/EPA/DIVYAKANT SOLANKI)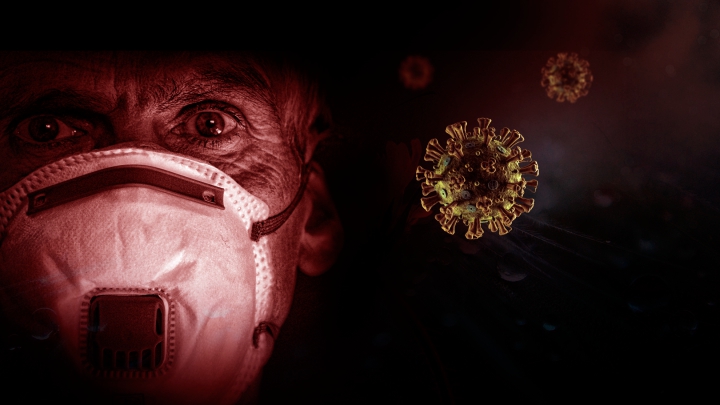 Coron-art
An Indian artist in Mumbai paints graffiti showing a stylised Covid-19 virus on the roadside amid the nationwide coronavirus lockdown. (Photo: EFE/EPA/DIVYAKANT SOLANKI)
Maharastra minister discharged from hospital after recovery from Covid-19
Maharastra's housing minister, Jitendra Awhad, has been released from hospital after recovering from the coronavirus.
"My fight with Covid-19 over the past few days has turned out to be successful and I am going home today, Awhad tweeted on Sunday. "I will soon be back with the same enthusiasm to work for my state. The doctors have advised me bed rest for a month… hence, I will not be able to meet anyone."
He added: "I also would like to thank the hospital staff, including nurses, ward boys, doctors and other employees for all they have done for me and I will be indebted to them all my life."
Awhad was admitted to hospital after testing positive for the coronavirus on 21 April.
Dr Manmohan Singh admitted
Former Prime Minister Dr Manmohan Singh has been admitted to All India Institute of Medical Sciences (AIIMS) after complaining about chest pain.
A couple sits near a statue of American fast food chain McDonald's famous mascot, Ronald McDonald, in Mumbai, India, 10 May 2020. The Indian government announced a lockdown extension for two weeks until May 17 with a new relaxation action plan for Red, Orange and Green Zones. EFE/EPA/DIVYAKANT SOLANKI
Repatriation efforts continue apace
India's commitment to bringing back some 14,000 citizens stranded abroad due to the coronavirus pandemic is in full swing with people arriving from the Maldives and the UK on Sunday.
Stranded migrant workers gesture as they board a special train headed to Barauni (Bihar) during a government-imposed nationwide lockdown as a preventive measure against the spread of the Covid-19 coronavirus, at the railway station in Amritsar on May 10, 2020. (Photo by NARINDER NANU / AFP)
Minister urges migrant worker effort
India's railways minister, Piyush Goyal, has called on all states to allow migrant trains to pass through.
Earthquake hits New Delhi
A third earthquake in a month was reported in Delhi on Sunday. The tremors measured up to 3.5 on the Richter scale, according to the National Center for Seismology.
Repatriations ongoing
Indian citizens evacuated from Maldives with a special ship INS Jalashwa are being shifted to a quarantine centre by bus, as part of a massive repatriation effort due to the Covid-19 coronavirus pandemic at the Cochin port in Kochi in the south Indian state of Kerala on May 10, 2020.
Delhi cases mostly mild or asymptomatic
Local media reported that of around 7,000 cases reported in Delhi, 1,500 have resulted in hospitalizations and 27 people have required ventilators.
2,500 arrested in Delhi
Stay at home! 2,511 people were detained yesterday in Delhi for flouting lockdown rules.
"Finally, a virus got me"
If you missed it before, this interview with virologist Peter Piot is a must-read. He's the director of the London School of Hygiene & Tropical Medicine, one of the discoverers of the Ebola virus and has spent his life fighting infections diseases, including HIV. He fell ill with the coronavirus in mid-March and nearly died from it. He talks about how own infection and what we need to do to beat Covid-19.
One quote: "Without a coronavirus vaccine, we will never be able to live normally again".
Health minister Dr Harsh Vardhan optimistic
Health minister Dr Harsh Vardhan has offered a cautiously optimistic outlook on the coronavirus crisis in India, saying he does not expect to see the nation emulate the world's worst-affected countries.
"We do not anticipate a very worst type of situation in our country like many other developed countries but still we have prepared the whole country for the worst situation," Vardhan said on Saturday.
With India's fatality rate at 3.3% and the country's recovery rate at 29.9%, he added: "These are very good indicators. The doubling rate for the last 3 days has been about 11 days and for the last 7 days it has been 9.9 days."
India Covid-19 update: 05:30 IST on Sunday 10 May (02:00 CEST)
According to the latest figures published by Johns Hopkins University, 4,020,878 cases have been detected worldwide, with 279,007 deaths and 1,369,553 people now recovered.
In India, there have been 62,808 cases confirmed, 2,101 people have died and 19,301 people have recovered from the virus.
Hello and welcome
Hello and good morning to our live coverage of the coronavirus situation in India, with the latest news as it happens.
Globally there have now been over 4,000,000 confirmed cases of Covid-19, while in India the tally stands at 62,808, with 2,101 deaths. 19,301 people have recovered from the novel coronavirus in India.