Atlético Madrid negotiating with Real Madrid for James Rodríguez
The news coming out of Colombia is that the attacking midfielder is likely to make the move across the Spanish capital. "James is 80% an Atleti player".
James Rodríguez may well be staying in Madrid, but not with his current club Real Madrid - rather the Colombia star looks increasingly likely to move across the city to Atlético Madrid.
The attacking midfielder, who returned to Spanish football, has played little under Zidane at Real Madrid, and the club are now keen to sell him and use the cash he'll bring in to fund their planned signings.
There are a number of clubs pursuing James, many in the Premier League, but Atlético seem to be in pole position to land the 28-year-old. According to Colombian journalist Javier Hernández Bonnet, the negotiations between the two clubs for the player are well advanced. In fact he reckons James could already be considered 80% an Atleti player.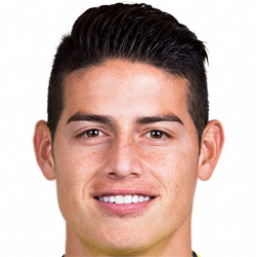 "If Real Madrid want to recover some of their money, they need to close the deal. If they don't do it between now and December, James will be a free agent. Real Madrid should open the door for James. The same sources that told us when he moved to Bayern Munich, have said the operation is 80% done," said the journalist on Blu Radio.
According to Hernández, James likes every aspect of the move, both from a sporting and personal point of view.
This season, James has only played 13 games in all competitions, eight as a starter. He's scored one goal and set up one. His last game in LaLiga was back on 19 October.
Yesterday, Monday, James was back at training with the Real Madrid squad, as Spanish football looks to come back from stoppage enforced by the coronavirus pandemic.