World Cup 2022 in Qatar: The outline of the Lusail Stadium takes shape
The works on the stadium that will host the opening game and final of the World Cup 2022 are continuing apace.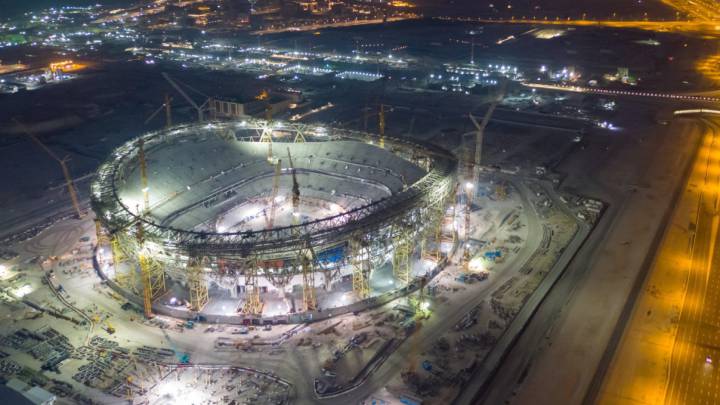 The construction of the Lusail Stadium, where the opening game and final of the World Cup 2022 in Qatar will be held, is advancing day-by-day. The Supreme Committee for Delivery and Legacy, in charge of managing infrastructure projects for the 2022 World Cup, has shared new photos of the works site with its followers on social media, with work on the stadium carrying on under the floodlights in order to be completed one year before the start of the World Cup.
With Qatar's glittering skyline in the background, Lusail Stadium is slowly coming to life! pic.twitter.com/E60cD6ICCw

— Supreme Committee for Delivery & Legacy (@Roadto2022news) May 18, 2020
In the photos you can clearly see the skyscrapers and other tall buildings of the city of Doha, which is around 16km from Lusail Stadium. These will provide a stunning backdrop for the stadium once it's 100% completed.
The stadium is in the city of Lusail, one of the largest in Qatar, and most important economically, thanks to the number of projects being carried out there, along with the well planned and implemented infrastructure.
Notably regarding the stadium works, the upper concrete and steel sections have been completed, as well as the exterior steel works. There have also been major advances in the mechanical, electrical and plumbing works.
Lusail is the biggest of the venues being prepared for the World Cup, holding 80,000 spectators. The design is inspired by the interplay of light and shadow that characterises the traditional fanar lantern.
The Supreme Committee's plans call for the ground to be a central location for the city of Lusail, with community facilities for the residents. The stadium will be the last of the eight World Cup venues to be inaugurated. Thanks to its large capacity, it will be one of the biggest stadiums in the entire Middle East in terms of seating capacity.