Coronavirus summary: deaths, cases, news - 24 May
Coronavirus live global: latest Covid-19 news - 24 May
Global totals and country news
Confirmed worldwide cases: 5.4 million +
Confirmed worldwide deaths: 345,000 +
Covid-19 patients are no longer infectious after 11 days of showing symptoms
Covid-19 patients are no longer infectious after 11 days of getting sick even though some may still test positive, according to a new study by infectious disease experts in Singapore.
The latest findings may have implications on the country's patient discharge policy. The discharge criteria is currently based on negative test results rather than infectiousness.
More than half of Russian regions can begin easing lockdown
More than a half of Russia's 85 regions can begin to lift lockdown restriction over the next few days. Russian Prime Minister Mikhail Mishustin said last week that seventeen regions could begin easing the coronavirus measures as the situation in the country is stabilising.
Brazil, world No. 2 coronavirus hotspot, suffers 653 new deaths
Brazil, the world's No. 2 coronavirus hotspot behind the United States, registered 653 new coronavirus deaths on Sunday, taking the total number of fatalities to 22,666, the Health Ministry said.
Brazil has 363,211 confirmed cases, up 15,813 from Saturday. The United States has more than 1.6 million cases and close to 100,000 deaths, making it the nation who has suffered the most during the pandemic.
Australia braced for travel chaos as schools and offices reopen
Australia's most populous state deployed hundreds of crowd control staff to enforce social distancingon public transport amid an expected commuter surge as schools and offices reopened and coronavirus cases fell.
Australia has reported just over 7,100 Covid-19 infections, including 102 deaths, well below figures reported by other developed countries. States are pressing ahead with a three-stage plan to remove most social restrictions imposed by July.
In New South Wales, which includes the city of Sydney, children returned to fschool on Monday, allowing many parents to return to offices. Officials warned locals to expect travel delays, with buses and trains operating at significantly reduced capacity due to distancing requirements.
Coronavirus could cost Mexico a million jobs: president
Mexican President Andres Manuel Lopez Obrador said on Sunday that the novel coronavirus could cost as many as a million jobs in the country as many industries considered not essential remain shut. The Mexican economy was already in recession before the pandemic struck and different investment banks have forecast contractions as large as 9% for this year with only a gradual recovery next year. 'My prediction is that with coronavirus, a million jobs will be lost,' Lopez Obrador said in a televised speech. 'But we will create two million new jobs.'
The job loss number matches the estimate by the country's business coordinating council (CCE). Lopez Obrador's government repeatedly said it had the outbreak under control but since posted record numbers for new cases and deaths. Earlier this week, his government issued guidelines for restarting operations in carmaking, mining and construction in Latin America's second-largest economy that is linked to the United States and Canada through a free trade agreement. In April, the finance ministry said in an annual economic report used to guide the budget that the economy could contract by as much as 3.9% this year, adding that the numbers incorporated a 'drastic' impact from coronavirus.
Japan eyes fresh stimulus plan worth over $929 bln to battle pandemic - Nikkei
Japan is considering a fresh stimulus package worth over $929 billion that will consist mostly of financial aid programmes for companies hit by the coronavirus pandemic, the Nikkei newspaper said on Monday. The package, to be funded by a second extra budget for the current fiscal year beginning in April, would follow a record $1.1 trillion spending plan deployed last month to cushion the economic blow from the pandemic.
The second extra budget, worth 100 trillion yen ($929.45 billion), will include 60 trillion yen for expanding loan programmes that state-affiliated and private financial institutions offer to firms hit by virus, the paper said. Another 27 trillion yen will be set aside for other financial aid programmes, including 15 trillion yen for a new programme to inject capital into ailing firms, it said. The government is expected to approve the budget, which will also include subsidies to help companies pay rent and wages as they close businesses, at a cabinet meeting on Wednesday.
Russell sails to win in virtual Monaco Grand Prix
George Russell used a dominant display to cruise to victory in the virtual Monaco Grand Prix on Sunday. The virtual edition was held the same day that the famous race through the streets of Monte Carlo was slated to be held before being canceled by the coronavirus. Russell, who races for the Williams team, quickly assumed the lead at the start and led the remainder of the 39-lap race.
He finished 39 seconds ahead of second-place Esteban Gutierrez's Mercedes to win his second straight virtual race. Monaco resident Charles Leclerc finished third, approximately 15 seconds behind Gutierrez. Alex Albon was fourth and Arthur Leclerc (younger brother of Charles) placed fifth. Pietro Fittipaldi, Lando Norris, Nicholas Latifi, Louis Deletraz and David Schumacher rounded out of the top 10. The actual Monaco Grand Prix had been run annually since 1955 prior to this year's cancellation.
New York reports 109 new deaths
New York has registered 109 coronavirus deaths over the last 24 hours, marking a slight rise on the previous day's tally.
New York governor Andrew Cuomo has called on citizens to remain vigilant. "What do we really think, this is the last time we are going to have a public health emergency?" Cuomo said. "Let's make sure we are better for what we have gone through."
India to resume domestic flights
India's civil aviation minister, Hardeep Singh Puri, has confirmed that domestic flights will resume across the country from Monday, despite a 24-hour record increase in new cases on Sunday.
"It has been a long day of hard negotiations with various state govts to recommence civil aviation operations in the country," he tweeted.
"Except Andhra Pradesh which will start on 26/5 & West Bengal on 28/5, domestic flights will recommence across the country from tomorrow."
In pictures: Supporters of Brazilian President Jair Bolsonaro wearing face masks with his face wave and shout slogans during a demonstration in favor of his government amidst the coronavirus pandemic in front of Planalto Palace on May 24, 2020 in Brasilia, Brazil. Brazil has over 352,000 confirmed positive cases of Coronavirus and 22,291 deaths. (Photo by Andressa Anholete/Getty Images)
U.S. CDC reports total of 1.6 million coronavirus cases and 97,049 deaths
The U.S. Centers for Disease Control and Prevention (CDC) on Sunday reported 1,622,114 cases of the new coronavirus, an increase of 26,229 cases from its previous count, and said the number of deaths had risen by 1,047 to 97,049.
The CDC reported its tally of cases of the respiratory illness known as COVID-19, caused by the new coronavirus, as of 4 p.m. ET on May 23, compared with its count a day earlier. The CDC figures do not necessarily reflect cases reported by individual states.
Brazil surpasses Russia in covid-19 cases
Brazil has surpassed Russia to become the country with the second highest number of coronavirus cases behind the United States. Brazil has reported 347,398 cases and 22,013 deaths as the U.S. prepares to announce a travel ban from the Latin American nation.
UK PM Johnson says adviser's lockdown drive was understandable
Prime Minister Boris Johnson said the actions of his senior adviser Dominic Cummings, who is under pressure over a journey made during lockdown, were understandable.
Johnson's office has said Cummings made a 400-km (250 mile) journey to ensure his 4-year-old son could be properly cared for as his wife was ill with COVID-19. "I think that what they did was totally understandable," Johnson said at a news conference on Sunday. "I think any father, any parent would frankly understand what he did and I certainly do." (photo by AFP)
Spain reports slight increase in coronavirus deaths
Spanish health authorities have reported 70 cases of coronavirus in the past 24-hour period, 22 more than on Saturday (48). Spain has now reported daily death figures of less than 100 for a week.
There were 361 new confirmed cases of the virus, as Madrid and Barcelona prepare to finally enter Phase 1 of the lockdown de-escalation plan on Monday, two weeks later than several other regions.
Wuhan conducting over 1 million tests per day
The city of Wuhan, the epicentre of the novel coronavirus outbreak in China, conducted 1,146,156 nucleic acid tests on May 23, the local health authority said on Sunday, compared with 1,470,950 tests a day earlier.
Wuhan began a campaign on May 14 to look for asymptomatic carriers - infected people who show no outward sign of illness - after confirming on May 9-10 its first cluster of Covid-19 infections since the city's release from a virtual lockdown on April 8.
France wants its citizens to holiday at home this summer
The French government does not want its citizens to travel abroad this summer and recommends they take their holidays in France, Environment Minister Elisabeth Borne said on Sunday.
Earlier this month, President Emmanuel Macron said it was unlikely that French people would be able to undertake major foreign trips this summer and that even trips within Europe may have to be limited to reduce the risk of a resurgence of the coronavirus epidemic.
Borne, in an interview with France Inter radio, also said that next week the government would decide on possibly loosening rules on French domestic travel, currently limited to a maximum 100 kilometres from home.
She said Paris parks had to remain closed for now, as the capital was still a "red zone" for virus circulation.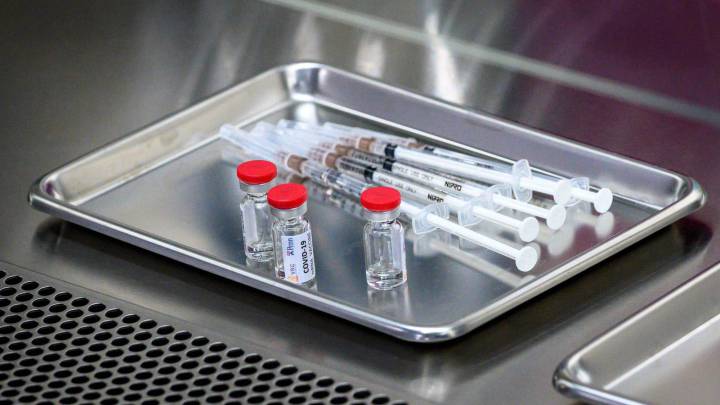 GAVI: first signs if a Covid-19 vaccine works possible in autumn
GAVI: first signs if a Covid-19 vaccine works possible in autumn
First indications of the effectiveness of a potential vaccine against coronavirus may be available in the autumn, the head of the GAVI stated, forecasting a long road from there to broad availability.
UK PM Johnson's adviser Cummings will not resign - minister
British Prime Minister Boris Johnson's senior adviser Dominic Cummings, who drove 400 km (250 miles) to northern England while coronavirus lockdown measures were in place, will not resign, Transport Minister Grant Shapps said on Sunday.
"Is he going to resign?" BBC presenter Andrew Marr asked during an interview. "No," said Shapps. Several lawmakers from Johnson's Conservative Party called on Sunday morning for Cummings to quit.
Madrid landmark museums planning for June opening
Despite the Spanish capital moving from 'phase 0' to one which permits museums to open with reduced capacity, El Prado, Thyssen and the Reina Sofía have confirmed that they will open their doors again in June.
Bundesliga leads the way
Schalke's players stand on the pitch before the start of the German first division Bundesliga football match FC Schalke 04 v FC Augsburg on May 24, 2020 in Gelsenkirchen with all games taking place behind closed doors.
(Photo by Ulli BRUENGER / POOL / AFP)
Lufthansa set to recommence flights to Mallorca, Ibiza and Málaga from mid-June
The German carrier confirmed these new flights on Sunday as lockdown restrictions ease in all areas of Spain with the government anxious to boost the economy with an influx of summer tourists.
Cristiano, LeBron, Rafa Nadal and Tiger Woods star in rousing Nike 'comeback' ad.
Oregon based sportswear giant Nike have delivered another powerful video clip featuring some of the greats of sport in their latest advertisement.
Russia reports 153 coronavirus deaths, highest daily toll yet
Russia on Sunday reported 153 coronavirus deaths over the previous 24 hours, the epidemic's highest daily toll, raising total fatalities to 3,541, the country's coronavirus crisis response centre said It also said 8,599 new cases had been documented, fewer than on the previous day, pushing the nationwide tally of infections to 344,481.
Madrid mayor celebrates last day of 'phase 0' with 'Fab 4'
As the Spanish capital prepares to move into 'phase 1' of lockdown restrictions, the mayor of the city acknowledged the last day of 'phase zero' with a musical tribute courtesy of The Beatles.
Eid al-Fitr social distancing
Imams observe social distance rules as they attend the Eid al-Fitr prayers, at the Grand Mosque in Pristina on May 24, 2020, as mosques are still closed to public events a preventive measure against the COVID-19 virus.
(Photo by Armend NIMANI / AFP)
Pressure piling on Cummings
Tory MP Hoare calls for action to be taken as the Cummings lockdown defiance situation escalates.
LaLiga set for 12 June restart
Spanish soccer's top flight division La Liga can return to action from June 8 after being disrupted by the novel coronavirus pandemic, Prime Minister Pedro Sanchez said on Saturday.
All organised soccer in Spain was provisionally suspended on March 12 although clubs in the top two divisions have since returned to group training.
La Liga has yet to officially confirm a date on which it will resume, although president Javier Tebas had said previously he hoped the season could do so from June 12.
Thailand reports no new coronavirus cases for fourth time this month
Thailand on Sunday reported no new coronavirus cases and no new deaths, maintaining the total to 3,040 confirmed cases and 56 fatalities since the outbreak began in January.
Sunday was the fourth day in this month that there were no new daily cases, said Panprapa Yongtrakul, a spokeswoman for the government's coronavirus task force.
There are 2,921 patients who have recovered and returned home since the outbreak started.
Zero new cases in New Zealand
The New Zealand's health ministry has announced there were zero new coronavirus cases confirmed in the last 24 hours. There are now only 27 active cases left in New Zealand, with one more patient recovered, bringing the country's total to 1,154, with 21 deaths.
UK PM's adviser Cummings denies making second trip to family in lockdown
British Prime Minister Boris Johnson's senior adviser Dominic Cummings denied a report that he made a second trip to his family in the northern English city of Durham during the coronavirus lockdown, describing it as "totally false", the Telegraph newspaper reported.
Cummings told the prime minister's office that he left Durham for London on April 13 and did not go back as he returned to work the following day, according to the newspaper.
The Daily Mirror reported on Saturday that Cummings made a second 400 km (250 mile) trip from London during the coronavirus lockdown and that he was spotted near Durham on April 19, days after he had returned to London from his first trip in late March and early April.
Brazil registers 965 new coronavirus deaths, confirmed cases hit 347,398
Brazil registered 965 new coronavirus deaths on Saturday, taking the total number of fatalities to 22,013, the Health Ministry said.
The country now has 347,398 confirmed cases, according to the ministry, up 16,508 from Friday, when it surpassed Russia to become the world's virus hot spot behind the United States.
The actual number of cases and deaths is believed to be higher than the official figures disclosed by the government, as the testing capacity of Latin America's largest country still lags.
Brazil's far-right President Jair Bolsonaro has been fiercely criticized for his handling of the outbreak, which has led to the exit of two health ministers amid his insistence in opposing social distancing measures while advocating the use of unproven drugs for treatment.
Buenos Aires lockdown extended until June 7 after rise in coronavirus cases
Argentina extended until June 7 a mandatory lockdown in Buenos Aires on Saturday and tightened some movement restrictions, after a steady increase in the city's confirmed coronavirus cases in recent days.
Officials will tighten traffic controls between the capital and Buenos Aires province, the area with the second highest concentration of cases, President Alberto Fernandez said in a televised press conference.
Commercial activity in some of the city's more populated neighborhoods and access to public transportation will also be rolled back. Some businesses had been allowed to reopen under a previous lockdown extension.
The country recorded 704 new infections on Saturday, one of the highest single-day increases since the pandemic began. The country has 11,353 cases, mostly in Buenos Aires, where the city's low-income neighborhoods have been particularly hard hit,government data showed. The death toll is at 445.
Fernandez said the rising case load was the driving factor in extending the isolation period in Buenos Aires, where 87% of new cases over the last two weeks were confirmed.
Mexico rise in cases
Mexican health authorities registered 3,329 new cases of the novel coronavirus in the country and 190 new deaths, a health official said late on Saturday, via Reuters.
This brings the total number to 65,856 cases and 7,179 deaths.
Coronavirus live coverage: welcome
Hello and welcome to our global coverage of the Covid-19 pandemic, which has now registered well over five million cases worldwide.
Join us for the latest news and numbers as they emerge throughout the course of the day.