Barcelona: Coutinho could enter Lautaro Martínez operation
The Brazilian playmaker could be used as a makeweight in the operation to sign the Inter Milan forward. Bayern won't exercise the option to keep Coutinho.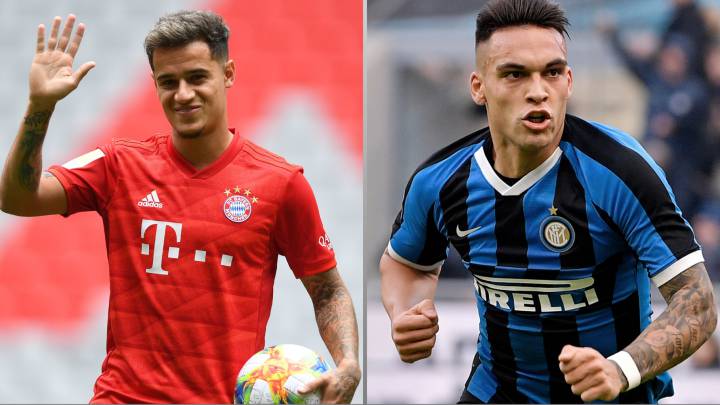 Barcelona are busy working to ensure that they can close the signing of Lautaro Martínez this summer. The problem, as far as club directors are concerned, is how to finance the deal. Inter Milan would be open to selling the Argentinean - but only at the right price. As things stand, the Italians are holding all the cards - they refer to the player's retention fee: 111 million euros although they are open to lowering that figure, depending on the offer.
90 million plus Junior for Lautaro
According to Italian media, Inter would be willing to let Martínez go for a fee of between 80-90 million but with full-back Junior Firpo included in the deal. Barcelona have come up with another, alternative proposal seeing as, at the moment, they simply cannot afford to spend that kind of money. Their first offer is 50 million euros plus two players - Nelson Semedo, and possibly either Rafinha, or even Rakitic.
Another name which has been mentioned, according to Gazzetta dello Sport, is Philippe Coutinho. The Brazilian midfielder knows Inter Milan well - the club he joined when he made the leap from South America to Europe, joining them Vasco de Gama in 2010. Three years later he was snapped up by Liverpool for 13 million euros, after making just 47 appearances for Inter.
Setién

keen to keep Coutinho

Coutinho has spent this season loan at Bayern Munich, but the German club has already made it clear that they won't be exercising their option to buy the player. Barcelona coach Quique Setién meanwhile has not ruled out finding a place in the side for the 27-year-old. "He's a great player, I like him a lot. In principle, he is technically a Barcelona player and I am counting on him being with us at the start of the new season. I still have to sit down and talk it all through with him to see what he wants, if there is any need in asking him," the coach told RAC 1.

Club directors however see Coutinho as the player who could most easily enter as a makeweight in any of the transfer operations Barça currently have in progress. On top of that, offloading Coutinho would reduce the wages bill and provide extra cash to invert in Lautaro.

Selling Coutinho presents another problem - Barça would prefer to recover as much of the 145 million euro fee they paid Liverpool for the player in January 2018 although the club is fully aware that the conditions of the transfer market have changed. Barça have priced Coutinho at 100 million euros. They know that the player is highly thought of in the Premier League and hope a club makes an offer this summer. Arsenal, Chelsea and Leicester are believed to be interested by not at the price Barcelona are asking. Newcastle, who could be willing to invest big money if the Saudi takeover goes ahead could save the day for Barcelona.

But while the club waits for that to happen, the operation to lure Lautaro to Camp Nou will grow more complicated. The Argentine forward is a priority and Inter are refusing to budge. If it continues that way. Barça might be left with no option but to offer Coutinho as part of the deal.