Coronavirus India summary: cases, deaths, news - 29 May
Coronavirus live India: latest Covid-19 news - 29 May
India Covid-19 update: 04:30 IST on Saturday 30 May (01:00 CEST)
According to the latest figures published by Johns Hopkins University,5,916,464 cases have been detected worldwide, with 364,357 deaths and 2,486,634 people now recovered.
In India, there have been 173,491 cases confirmed, 4,980 people have died and 82,627 people have recovered from the virus.
Fresh feed
Thank you for joining us today. We are now going to continue our coverage of the coronavirus pandemic over at our new daily feed and hope you will join us.
Google warnings
Around 100 Indian accounts that were the target of "government-backed attackers" received warnings from the tech giant.
An aerial view of a residential area near the slums in Devipada area, one of the Covid-19 hotspots in Mumbai, India, 29 May 2020. (Photo: EFE/EPA/DIVYAKANT SOLANKI)
GDP lowest in 44 quarters
India's gross domestic product (GDP) grew at 3.1 per cent in the final quarter of the financial year 2019-20, lowest in 44 quarters.
Output in eight core industries of India during April declined by 38.1 per cent, according to data released by the government.
Change in direction
With the Delhi-Gurugram border re-sealed on Friday after a week of allowing vehicles to pass through, several residents of Gurugram chose the Delhi-Faridabad border as their entry point into the national capital even as the roads leading to Gurugram and Ghaziabad witnessed slow traffic in the morning hours.
Indian economy grows at slowest rate for two decades
The Indian economy grew at its slowest quarterly rate in two decades between January and March, according to figures published by the country's government on Friday.
Asia's third-largest economy grew by 3.1% during the period, which coincided with the first week of the lockdown put in place by PM Narendra Modi to curb the spread of the coronavirus.
Meanwhile, annual growth was 4.2%, India's lowest in 11 years. (AFP)
A healthcare worker in Mumbai checks a boy's temperature with an infrared thermometer at a camp in Dharavi, one of Asia's largest slums. (Photo by REUTERS/Francis Mascarenhas)
Monkeys steal coronavirus blood samples
(Reuters) A troop of monkeys in India attacked a medical official and snatched away blood samples of patients who had tested positive for the novel coronavirus, authorities said on Friday.
The attack occurred this week when a laboratory technician was walking in the campus of a state-run medical college in Meerut, 460 km (285 miles) north of Lucknow, capital of Uttar Pradesh state.
"Monkeys grabbed and fled with the blood samples of four Covid-19 patients who are undergoing treatment ... we had to take their blood samples again," said Dr S. K. Garg, a top official at the college.
Tamil Nadu cases pass 20,000-mark
The state recorded 874 new coronavirus cases, taking the overall number of cases past 20,000.
Indian doctors go online to treat patients amid coronavirus outbreak
(Reuters) As India's health system grapples with the coronavirus, doctors are increasingly going online to consult with patients suffering less critical or chronic diseases, while the south Asian economy prepares to emerge from a nationwide lockdown.
To head off a rush at clinics and an accompanying risk of infection, many doctors are turning to video calls and WhatsApp chats, in addition to regular telephone calls, to treat patients suffering from illnesses such as diabetes or kidney conditions.
"There is a lockdown, patients cannot come, but the disease will not wait," said Sushila Kataria, the director of internal medicine at Medanta Hospital in Gurugram near New Delhi.
Kataria said she had started treating nearly 80% of patients online, with physical check-ups limited only to urgent cases. Despite one of the world's strictest lockdowns since late March, India's tally of virus infections stands at more than 165,000, with 4,706 deaths.
Massive volunteer medical uptake
Some 38,000 medical professionals have volunteered to fight the coronavirus crisis in India.
"No contact" between Trump and Modi
According to local media, the supposed cooperation between Donald Trump and Indian PM Modi has not been as close as the US president claimed. India is pushing ahead with hydroxychloroquine tests despite WHO warnings.
13 of India's worst-hit cities come under review as they account for over 70% of the country's total cases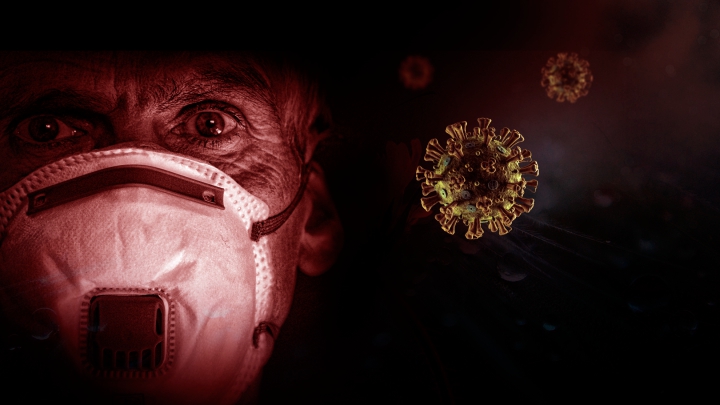 Coronavirus live India updates: welcome
Hello and welcome to our live, India-focused coverage of the coronavirus pandemic, which has now registered over 5.7 million cases worldwide.
We'll endeavour to bring you the latest news and numbers as they emerge throughout the day.