Sacked police officer who knelt on George Floyd's neck charged with murder and manslaughter
Derek Chauvin, who was filmed kneeling on Floyd's neck, who was unarmed and already handcuffed, has been taken into custody, amidst continuing protests across the US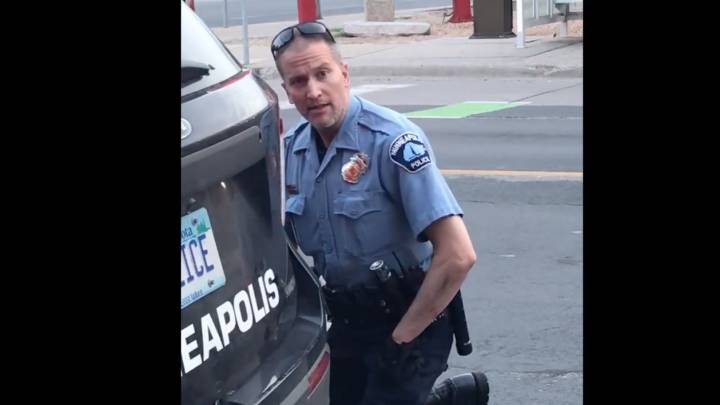 Former Minneapolis police officer, Derek Chauvin, who knelt on George Floyd's neck until he died, has been taken into custody by state authorities and charged with murder and manslaughter, confirmed Hennepin County Attorney Mike Freeman at a briefing for reporters this afternoon.
Sufficient admissible evidence to prove the case beyond reasonable doubt
"We have never charged a case in that kind of time frame, and we can only charge a case when we have sufficient admissible evidence to prove the case beyond a reasonable doubt. As of right now, we have that. We have charged this case as quickly, as sufficient admissible evidence to charge it has been investigated and presented to us," said Freeman.
The County Attorney said the action taken against Chauvin was "by far the fastest we've ever charged a police officer."
The investigation into the other three officers involved in the death of George Floyd continues.
The family of George Floyd have been demanding the officers involved be charged with murder.
Earlier John Harrington, commissioner of the Minnesota Department of Public Safety had confirmed that Chauvin had been taken into custody over the death of George Floyd.
Chauvin was fired from his job as a police officer after Floyd's death. He has now been taken into custody by the Minnesota Bureau of Criminal Apprehension.
George Floyd, a 46-year-old black man, died after Chauvin knelt on his neck during his arrest. Floyd was heard pleading that he could not breath before he stopped talking and went motionless. He was confirmed dead at a nearby hospital.
Hennepin County Attorney Mike Freeman asked for time for investigation
Hennepin County Attorney Mike Freeman, in charge of the investigation into the death of George Floyd and any subsequent criminal action, had pleaded for time to reach a conclusion.
"We're going to investigate [Floyd's death] as expeditiously, as thoroughly and completely as justice demands," Freeman said. "Sometimes, that takes a little time and we ask people to be patient. We have to do this right." That investigation has now resulted in murder and manslaughter charges.

Klobuchar says arrest, "First step towards justice"
Minnesota Senator Amy Klobuchar reacted to the arrest of Chauvin, saying it was "the step towards justice".
The Attorney General of Wisconsin, Josh Kaul, had previously said, "What America witnessed happening to George Floyd in Minneapolis was not, in any true sense of the phrase, law enforcement. It was torture and murder, under color of law. Justice demands that those involved in this depraved crime be prosecuted to the full extent of the law."
Follow latest updates on the George Floyd case and the protests across the United States.