BUNDESLIGA
Havertz's goal-scoring form puts him in Bundesliga record books
The young midfielder, believed to be on the radar of a number of Europe's elite clubs, scored again in his side's 1-0 victory on Friday night.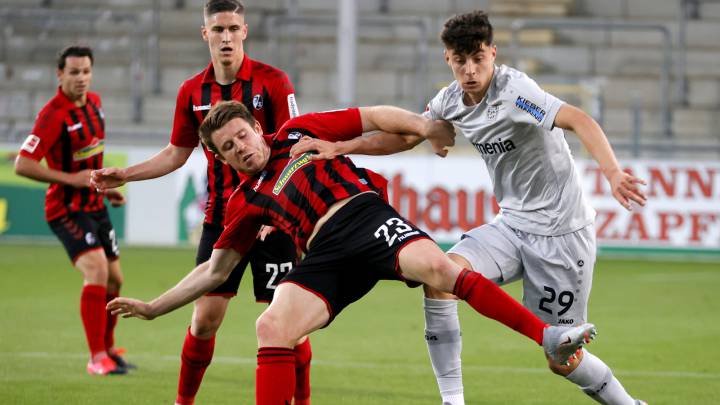 Bayern Leverkusen's 1-0 win at SC Freiburg on Friday evening saw Kai Havertz break yet another Bundesliga record as his prodigious form continued. The 20-year-old scored the only goal of the game to take him to 35 goals in the German top flight, the first player to reach that mark before their 21st birthday.
It was his 11th goal of the season and fifth in four games since the Bundesliga returned. If his form continues he may well be on course to outdo his return from the 2018/19 campaign where he scored 17 goals in 34 appearances, the highest single season tally for a teenager. He was described by German national team manager Joachim Low as "exceptional" player who could have been capable of playing for Germany even before his call-up at the age of 19.
"With Kai Havertz I asked myself after the first time he trained with us whether he could've already been with us for a year or two," said Low. "It seemed as if he'd always played with the others. I've seen that very, very rarely with a player before."
A Player With "Huge Potential"
What makes Havertz's goal-scoring achievements even more remarkable is that he is not a conventional striker and has only been playing in a 'False 9' role in recent games because of an injury to Kevin Volland. Volland had been the central striker and had captained the side on numerous occasions before his injury in February.
Havertz not only replaced him up front but also took the captain's armband for a game against Augsburg which Bayer won 2-0. The 20-year-old became the youngest Bundesliga captain since Lukas Podolski in 2005 and provided an assist for the opener.
Such precocious talent has alerted the interest of some of the world's most illustrious clubs and Liverpool, Manchester City and Barcelona are all believed to be contemplating making a move. With Bayer expected to demand in excess of €100million, it has been reported that Barcelona would prefer a swap deal, with clubs' finances suffering from the coronavirus-induced suspension of football.
However former Bayer Leverkusen legend and German international Jens Nowotny believes the Havertz's interests would be best served by staying at the club where he has spent the last decade.
"He is on the way to becoming a world-class player. He has huge potential", said Nowotney.
"Another year in Leverkusen would certainly not hurt him. For his personal development as a player and as a person it would be good for him to be in an environment in which he feels comfortable - and that's the case in Leverkusen. Otherwise he would not have already spent 10 years at the club."