Liverpool: Klopp hopes for title parade after boost from police
The Liverpool boss gave his thoughts on potential title celebrations but made clear that his side still have work to do when the Premier League returns.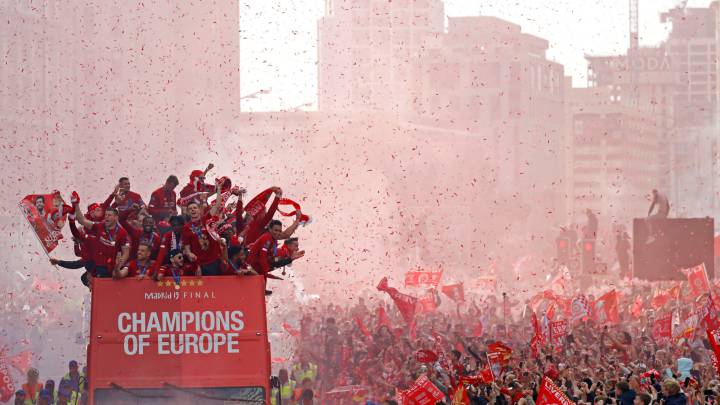 Liverpool could mathematically secure the Premier League title in their first fixture back against Everton if results go their way, but Jürgen Klopp is not getting ahead of himself. Speaking to the BBC, he said that the Merseyside derby begins a tough run of fixtures for his team: "We will see, we will have to see how life is until then… Our first three games are Everton, Crystal Palace and Man City so I don't see any results written in the stars already, we will have to work really hard".
Klopp on Liverpool parade: "We only need one day when everyone is able to come"
Klopp was also asked what he thought the celebrations would be like with the country still under social distancing restrictions. Missing out on the scenes that followed Liverpool's Champions League victory last season would be a shame for supporters, but Klopp insisted that no celebrations can ever be perfect and they would try to organise something with fans as soon as it is safe to do so.
"You always celebrate wherever [the game] is," Klopp said. "In Madrid we were in a hotel with a lot of people around so you don't have time for your family; if you want you can always find any issues in the situation. If we will be champions then whichever celebrations are possible we will do, as a team.
"If it happens there will be a parade as well, whenever, who cares? We only need one day when everyone is able to come and then we will do that."
Merseyside police have "no objections" to Anfield fixtures
Klopp's comments come just days after Merseyside police said they would be happy to allow games in the city. It had been reported that plans were being drafted to move certain Premier League fixtures to neutral venues due to fears that fans may congregate outside stadiums. The Merseyside derby and any fixtures where Liverpool could win the league were amongst those mentioned.
However, Merseyside police have now confirmed that they are "ready to provide whatever policing is required of us in relation to games being played at our Premier League stadia once the season restarts."
"In relation to crime and disorder we have no objections to any of the Everton or Liverpool home fixtures being played at their respective grounds," a police statement added. "We have a good working relationship with both clubs, and their fan groups, and are content that we can work together in advance of the restart of the season."
This could pave the way for Liverpool to lift the Premier League trophy at Anfield in the coming weeks, although the game and subsequent celebrations would be held behind closed doors. It may not be quite as he had imagined, but Klopp is looking forward to "an absolutely exceptional day in my life" when his side can finally be crowned champions.