Premier League return: dates and kick-off times released
The Premier League will resume activity on 17 June with two games to be played on that date. Kick-off times through to 2 July have been confirmed.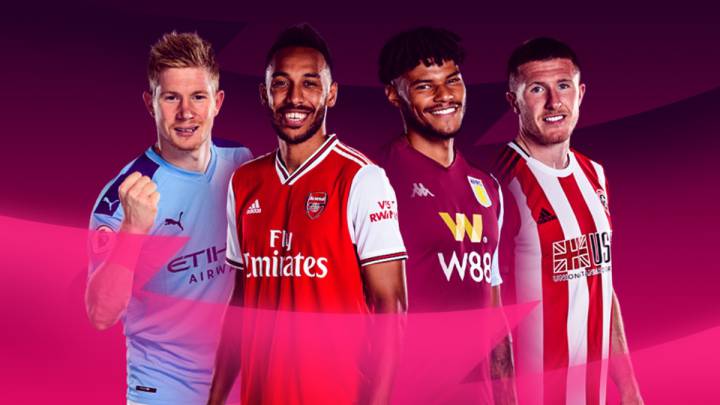 The Premier League have confirmed kick-off times for the first three match-days as competition resumes on 17 June.
Both Everton-Liverpool (Sunday, 21 July) and the Manchester City-Liverpool (2 July) appear set to be played at neutral grounds on police recommendations.
Wednesday 17 June
19:00 Aston Villa v Sheff Utd
21:15 Man City v Arsenal
Friday 19 June
19:00 Norwich City v Southampton
21:15 Spurs v Man Utd
Saturday 20 June
13:30 Watford v Leicester City
16:00 Brighton v Arsenal
18:30 West Ham v Wolves
20:45 AFC Bournemouth v Crystal Palace
Sunday 21 June
15:00 Newcastle United v Sheff Utd
17:15 Aston Villa v Chelsea
20:00 Everton v Liverpool*
*venue tbc
Monday 22 June
21:00 Man City v Burnley
Tuesday 23 June
19:00 Leicester City v Brighton
21:15 Spurs v West Ham
Wednesday 24 June
19:00 Man Utd v Sheff Utd
19:00 Newcastle United v Aston Villa
19:00 Norwich City v Everton
19:00 Wolves v AFC Bournemouth
21:15 Liverpool v Crystal Palace
Thursday 25 June
19:00 Burnley v Watford
19:00 Southampton v Arsenal
21:15 Chelsea v Man City
Saturday 27 June
13:30 Aston Villa v Wolves
Sunday 28 June
17:30 Watford v Southampton
Monday 29 June
21:00 Crystal Palace v Burnley
Tuesday 30 June
21:15 Brighton v Man Utd
Wednesday 1 July
19:00 Arsenal v Norwich City
19:00 AFC Bournemouth v Newcastle United
19:00 Everton v Leicester City
21:15 West Ham v Chelsea
Thursday 2 July
19:00 Sheff Utd v Spurs
21:15 Man City v Liverpool*
*venue tbc
** all kick-off times expressed in CEST