Ali Al-Habsi: "The World Cup is the biggest event of 2022"
The West Bromwich Albion and former Oman stopper has said the importance of the 2022 World Cup is unprecedented for the Arab community.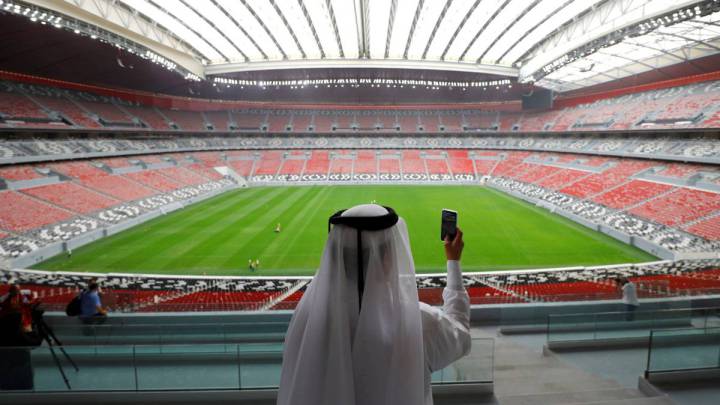 West Bromwich Albion keeper and former Oman national team stopper Ali Al-Habsi, a delegate for the Qatar 2022 World Cup Supreme Committee for Delivery and Legacy, participated in a social media live event for Generation Amazing, a charitable organization connected to Qatar 2022 that was founded with the aim of encouraging Qataris to keep fit at home while under coronavirus quarantine.
Al-Habsi, who was capped 135 times at international level, is a key member of the Supreme Committee for Delivery and Legacy alongside former and current players Muhammad Abu Trika, Younis Mahmoud, Badr Al Mutawa, Adel Khamis, Ahmed Khalil, Mubarak Mustafa, Khaled Salman and Ibrahim Khalfan. In addition to his international career, which garnered a 2009 Arabian Gulf Cup triumph, Al-Habsi won the FA Cup with Wigan Athletic in 2013.
In the online encounter, Al-Habsi shared his tips for staying in shape during lockdown and gave some advice to youngsters looking to follow in his footsteps.
He also discussed the 2022 World Cup in Qatar, which will represent the first time football's biggest tournament has been staged in an Arabian nation.
"The importance of the 2022 World Cup is unprecedented due to its positive impact on the Arab community; it will be the most important event of 2022 and I feel proud to be playing a role in the preparations for for what will be a dream for all footballers who will take part in the tournament, and the importance of it taking place in Qatar.
"Despite not being able to realize my dream of playing at the World Cup in Qatar, I have been given the opportunity to be one of the delegates of the Supreme Committee for Delivery and Legacy, so I can play a small part alongside my colleagues in supporting the hospitality of Qatar for the tournament, which is one of the main objectives of the World Cup."
Generation Amazing
The Generation Amazing project started out in Oman a year ago and in recent weeks the initiative has staged live events on social media and also involves training tips from elite coaches to help people stay in shape during lockdown.