When will Europe's 'Big Five' leagues be decided, LaLiga, Serie A, Premier League...?
Bayern Munich moved to within six points of securing a record eighth consecutive Bundesliga title. With the Premier League, La Liga and Serie A set to resume in the coming weeks, we take a look at the state of play in the title races of Europe's 'Big Five' leagues.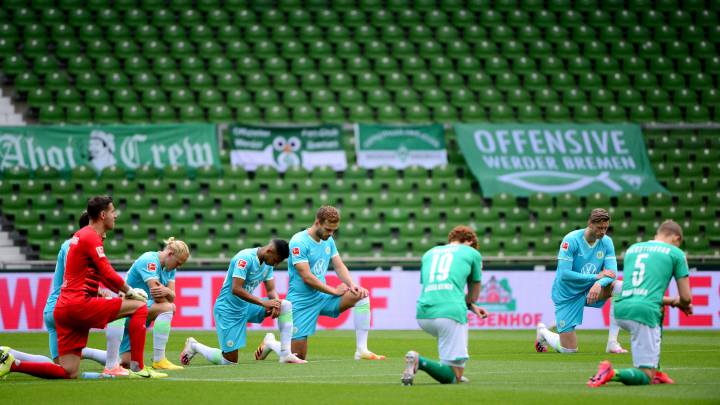 France – Ligue 1
Paris Saint-Germain had exerted their usual dominance over the 2019/20 Ligue 1 season and were 12 points clear of Marseille with a game in hand when fixtures were suspended on 13 March. The title seemed a foregone conclusion but there was widespread shock when French Prime Minister Edouard Philippe announced on 28 April that the season was over, with PSG confirmed as champions two days later.
The French Football Federation have since been criticised for being too reactive and there are growing calls for play-offs to be held to decide the remaining places. Lyon President Jean-Michel Aulas labelled the decision to cancel the 2019/20 season as "hasty" and UEFA President Aleksander Ceferin has confirmed that a potential restart of the competition would be possible.
Germany – Bundesliga
With just four rounds of fixtures left to be played Bayern Munich sit seven points ahead and seem destined to wrap up the Bundesliga title in the coming weeks. They face Borussia Monchengladbach next Saturday but would need Borussia Dortmund to lose against relegation-threatened Dusseldorf for them to be mathematically confirmed as champions.
More likely is that both the top two win their next game, leaving Bayern the opportunity to wrap up the title away at Werder Bremen on Tuesday 16 June.
England – Premier League
The Premier League is set to return on 17 June and the biggest game of opening night sees reigning champions Manchester City host Arsenal at the Etihad Stadium. If Arsenal were to win then Liverpool, currently 25 points clear at the top, would be given the golden opportunity to secure a first Premier League title against city rivals Everton on the following Sunday evening.
If both Liverpool and City win their first two games then Liverpool would become champions against former manager Roy Hodgson's Crystal Palace on Wednesday 24 June. All remaining Premier League fixtures are staggered, meaning that there is the possibility that Liverpool may not be involved in the game that ultimately decides their fate. If City beat Arsenal and Burnley, while Liverpool pick up four points from their first two games, then the title could be decided at Stamford Bridge on the 25 June. City would travel to Chelsea knowing that anything other than a win would see Liverpool crowned champions without them kicking a ball.
Spain – La Liga
European football may have been plunged into unknown waters in recent months but Real Madrid and Barcelona are still slogging it out at the top of La Liga. Barcelona are currently two points ahead of their El Classico rivals, who are nine points clear of third-placed Sevilla. Both games between the top two have already been played, with Real Madrid picking up a win and a draw, so it will go down to their ability to beat the rest. Atletico Madrid have had a disappointing league campaign but may have the chance to be king-makers when they visit the Camp Nou on 1 July.
The season will resume on 11 June and Real Madrid will need to improve on their pre-lockdown form if they are to lift their first title since 2017 having won just one of their last four league games. For Barcelona, the fitness of Lionel Messi will be their main concern but the Argentinian is believed to have recovered from a quadriceps injury sustained during the break.
Italy – Serie A
Serie A will be the last of the major European leagues to resume when it returns on 20 June and it does so in the midst of the closest title race in years. Juventus have won the last eight championships but are facing a real threat from Simeon Inzaghi's Lazio, who are just one point behind. In contrast to Juventus' record winning streak, Lazio are in the hunt for their first title since the 1999/2000 season under Sven-Göran Eriksson.
Lazio have been in great form since an early season wobble and have remained undefeated since September. In that time they have beaten Juventus twice, once in their home fixture at the Stadio Olimpico and once in the Italian Super Cup. The two play each other again on 20 July in what could be a winner-takes-all clash in Turin. Juventus have been imperious at home this season, winning 12 of their 13 league matches at the Allianz Stadium, but in Ciro Immobile Lazio have one of the deadliest forwards in Europe.