Mexico wakes up to a 7.5 magnitude earthquake
A powerful earthquake hits the coast of southern Mexico on Tuesday morning which has triggered a tsunami warning in the country and at least 4 people dead.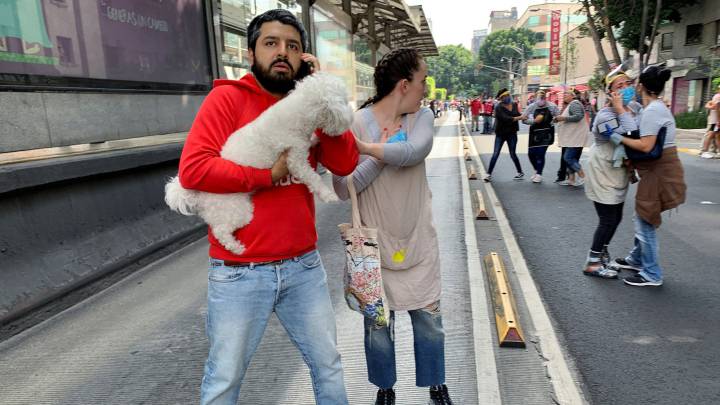 A 7.5 magnitude earthquake struck the coast of southern Mexico on Tuesday morning. The quake was felt in buildings located in Mexico City which is hundreds of miles away and many people ran to the streets to get away from their houses and authorities have triggered a tsunami warning.
At the moment there no casualties from the earthquake have been reported and according to the U.S. Geological Survey the 7.5 magnitude quake was centered on the Pacific coast in the state of Oaxaca at 11:29 a.m. ET..
Tsunami Info Stmt: M7.7 Near Coast Of Oaxaca, Mexico 0829PDT Jun 23: Tsunami NOT expected; CA,OR,WA,BC,and AK

#NTWC

— NWS Tsunami Alerts (@NWS_NTWC) June 23, 2020
In the morning Mexico's President Andres Manuel Lopez Obrador said there were no preliminary reports of damage but they are still waiting for a final report from Oaxaca, the epicenter of the earthquake. But as the hours passed it was confirmed by the authorities that at least 4 people died in the temblor and several others are injured.
The quake had a depth of about 20 miles and it was located 7 miles west of Santa Maria Zapotitlan, Mexico. Pemex is a petroleum company and they confirmed that one of their oil refineries burst into flames due to the earthquake. Fortunately the fire was controlled and put out.
#PemexInforma que por sismo con epicentro en costas de Oaxaca, la refinería "Antonio Dovalí Jaime" en Salina Cruz fue puesta en paro seguro por registro de disparo en los turbo generadores y caldera, lo que provocó un conato de incendio que fue sofocado de inmediato. pic.twitter.com/LCG6hX1Vei

— Petróleos Mexicanos (@Pemex) June 23, 2020
The tremor was also felt in Guatemala and the National Weather Services Pacific Tsunami Warning Center said that 'hazardous' tsunami waves from the wake within 620 miles of the epicentre, along the Pacific coasts of Mexico, Guatemala, El Salvador and Honduras.