BARCELONA
VAR conspiracy theorists find evidence to support case
The conspiracy theorists who believe Piqué have found evidence that Martínez Munuera ruled out a goal for Messi in Jeddah that was the same as Benzema's finish.
Gerard Piqué questioned the referees in LaLiga after Barcelona drew with Sevilla at the Sánchez Pizjuán on Fridat night. "Seeing how the last two weeks have gone," he said. "It will be very difficult to win the league." The Barcelona defender's words were cryptic in a way but most knew what he meant.
The Barcelona sport dailies led with events at Real Sociedad's New Anoeta on Sunday night. Three key decisions went Madrid's way over the 90 minutes and Real Madrid would eventually win 1-2. Vinicius won a penalty, Adnan Januzaj had a goal ruled out for offside interference by Mikel Merino and Benzema scored after controlling the ball with his shoulder. "Made in Madrid," said Mundo Deportivo. "VAR leaders," was Sport's take on the situation.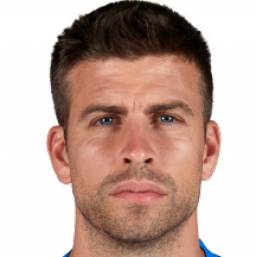 La Vanguardia said it was "riddled with suspicion". It was the second time in a week Madrid's opponents had a goal ruled out for interference even though Mikel Merino was not obstructing Courtois' vision. Those who agreed with Piqué's criticisms found evidence that suggests Benzema's goal should have been ruled out because of a similar goal Messi scored in the Spanish Super Cup. Messi scored against Atlético after controlling the ball with the same area of his shoulder and the goal was ruled out for handball. The curious thing is that the same referee was involved in both games: Martínez Munuera. That was another point to strengthen the argument. 
Barcelona believe in VAR but work needed on implementation
The club still believe the use of technology is a good thing but say it has to be used correctly. Víctor Font, the presidential candidate most likely to take Josep Maria Bartomeu's place next summer,  along with people like Joan Laporta and Jordi Roche, are united in their criticism. "Embarrassing!" they said.
Toni Freixa, former Barcelona keeper and candidate in the 2015 elections was critical too: "They have turned VAR into a way to legalise cheating." Jordi Farré, another candidate for next summer's elections said: "What a scandal!"
Setién said: "Everyone saw what happened. VAR is a tool that can make things better. But you have to use it right. It's understandable that we think that some actions should be revised and others not. And you can think that it's not being used properly."
Not everyone has adopted the Piqué Doctrine. The people against the criticism say it is a way of hiding the obvious problems in the team. They were unable to break down Sevilla on Friday night and that is a more pressing issue than what happens with VAR during Madrid games. Meanwhile, those who do follow Piqué's line of thinking keep VAR under the microscope.