Real Madrid: Sergio Ramos making a strong case to extend his contract
His wonderful free-kick against Mallorca underlined his argument to strike a new deal with Madrid. His contract expires in 2021, and he has yet to renew...
At 34, Sergio Ramos is turning out to be Real Madrid's most decisive player during the return to LaLiga. The captain has been in fine form at both ends of the pitch and his sublime free-kick against Mallorca only added to his argument that he deserves a new contract with the club. His current deal expires on 30 June 2021 (technically, he will be able to start talking to other clubs from 1 January) but as Diario AS reported recently, both the player and club intend to prolong their relationship although for the time being, it is not a priority. It is taken as a given that Ramos will extend his contract with Real Madrid to 2022 at least. 
His strike against Mallorca was his second from a direct free-kick for Madrid. The first was back on 7  May 2014, against Valladolid and from a similar position to Wednesday's. On that occasion, Ramos took charge of free-kick duties as Cristiano was out injured. This week, he took the responsibility again - even though under other circumstances, it would have been down to another of the team's specialists, Gareth Bale. 
Ramos - eight goals in LaLiga this season
Ramos' league tally stands at eight out of the 10 goals he has scored this season - the highest total for a defender at Real Madrid in over four decades. The last defender to reach such figures was Pirri, who ended the 1976-77 season with 14 goals - 11 of them in the league. The Mallorca game was another milestone as it marked his 300th victory as a madridista.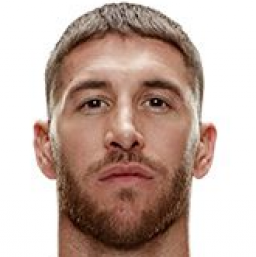 Ramos and Real Madrid, a future together...
For now, Ramos and Madrid are focused on wrapping up LaLiga so contract talks are on hold until the season is over. The player wants to sign a two-year extension but the economic situation with the coronavirus crisis means that Madrid will take a cautious approach. Gareth Bale is the highest earner within the squad (14M euros) but is less influential than the captain. In February, Ramos declared that negotiating new terms with Madrid would not cause any friction. "The club is in a wonderful moment right now so there is no reason to rush," he said. "I'm sure we will reach an understanding. I've never demanded an extra two or four years. I know that when players get to a certain age, the usual procedure is to offer a one-year extension. If the club wants me to continue, I will".