Miami fining people for not wearing a face mask as Covid-19 cases increase
Coronavirus cases are surging in many places in the United States and in Miami it is now mandatory to wear a face mask in public.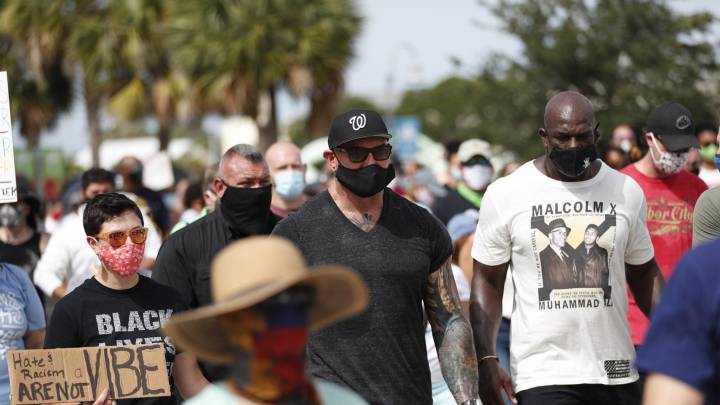 In order to curb the spread of Covid-19, Miami has issued a new emergency order starting Thursday mandating people to wear face masks in public places or face fines. The measure is in response to the rising amount of new coronavirus cases particularly in South Florida but also throughout the state.
Miami mayor, Francis Suarez, signed the order at 17:00 on Thursday with immediate effect but subject to a series of exceptions:
Children under two years of age are exempt from the requirement to wear a mask.
People with disabilities or medical conditions will not be fined if they are not wearing one.
Someone obtaining service involving the nose or face for which temporary removal of the face covering is necessary (such as grooming at a salon).
Someone doing outdoor work or exercise with appropriate social distancing.
Someone who is eating or drinking.
Someone who is hearing-impared or an individual who is communicating with someone who is hearing-impaired.
Those who do not fall into any of the exempt categories and decide to go without a mask will face an escalating level of warnings and punishment. People with no face mask on in public will first be issued a verbal warning, and a city worker will provide them with a free mask.
The second time that person gets caught they will receive a $50 fine and a third offense will cost the individual $150. If they didn't continue to insist in not wearing a mask they will be fined $500 and given a court date. The fines are considered necessary because only the "heavy hand" of the law can ensure compliance with the rules, Miami city manager Art Noriega told the Miami Herald.
Florida alone was responsible for almost 1 in 4 of the new cases, with its Department of Health reporting almost 9,000 new cases of coronavirus on Friday.