Coronavirus India news summary: Monday 29 June 2020

Coronavirus live: India latest news - 29 June 2020

India Covid-19 update: 04:50 IST on Tuesday 30 June (01:20 CEST)
According to the latest figures published by John Hopkins University, 10,256,251 cases have been detected worldwide, with 504,200 deaths and 5,202,759 people recovered.
In India, there have been 548,318 cases confirmed, 16,475 people have died and 321,723 people have recovered from the virus.
Cases surge in India's southern states
While new cases dropped in Delhi for the second straight day, India's five southern states - Andhra Pradesh, Telangana, Karnataka, Kerala and Tamil Nadu - accumulated 37% of 18,870 fresh coronavirus infections in the country on Monday, says this report by the Times of India:

Bangalore arena converted into field hospital
Workers convert the Koramangala indoor stadium in Bangalore into a coronavirus care centre with over 250 beds on Monday. Bangalore is sealing down several areas where positive cases have been detected in recent days, after a surge in the number of coronavirus cases.
(Photo by Manjunath Kiran / AFP)
KTU exams postponed due to pandemic
APJ Abdul Kalam Technological University (KTU) has postponed all exams as a result of the rising Covid-19 numbers in India, where there have now been over 500,000 cases.
Full story: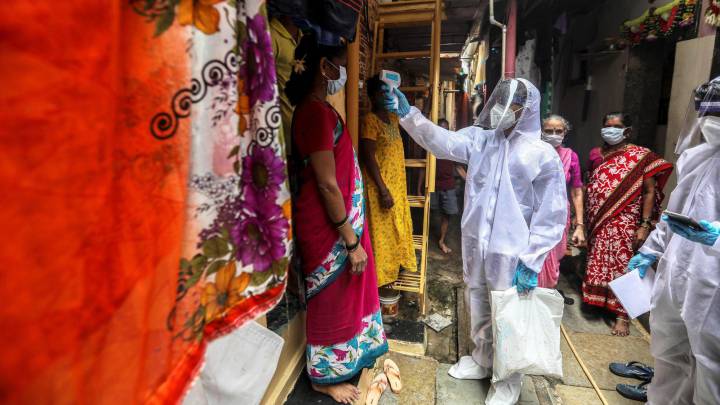 How quarantine rules vary across India
With domestic travellers facing differing quarantine rules throughout India, the BBC has produced this overview of the varying requirements in place in the country's major cities:
As part of a phased re-opening following the lockdown, the ban on gatherings will remain in place and a date for restarting sporting activities normally will be decided separately. Necessary 'Standard Operating Procedures' (SOP) will also be issued for the same by the Ministry of Home Affairs.
India plans incentives for auto companies to boost exports
India is drawing up an incentive scheme for the autos sector aimed at doubling exports of vehicles and components in the next five years, four sources with direct knowledge of the matter told Reuters. The Department of Heavy Industries (DHI) has sought feedback from auto industry groups on the initial proposal, which suggests giving incentives over five years to increase local production and procurement for export, the sources said.
The incentives would be based on the sales value of vehicles or components and eligible companies would need to meet certain conditions, including a minimum revenue and profit threshold and presence in at least 10 countries, two of the sources said, adding the form the incentives would take had not been decided. DHI did not immediately respond to a request for comment.
The move is part of India's effort to create 'champion' sectors to attract investment, generate jobs and boost manufacturing, and comes amid calls by Prime Minister Narendra Modi to be self-reliant as a nation. India wants to promote exports and has identified some sectors, including autos and textiles, for which incentive plans are being designed, said a senior government official.
Apple taking privacy seriously
Believing privacy to be a fundamental human right, Cupertino giant Apple is rolling out some new privacy features to safeguard user data.

Hairdressers wearing protective gear give haircuts to customers with face masks on at the Enrich Salon in Mumbai, India, 28 June 2020.
Barbershops and hair salons have reopened their doors for business following around three months of lockdown. (Photo: EFE/EPA/DIVYAKANT SOLANKI
Asia stocks slip as coronavirus cases surge
Asian share markets got off to a shaky start on Monday as the relentless spread of the coronavirus finally made investors question their optimism on the global economy, benefiting safe harbour bonds and the U.S. dollar, reports Reuters.
MSCI's broadest index of Asia-Pacific shares outside Japan eased 0.2% and further away from a four-month top hit last week. Japan's Nikkei shed 1.5% and South Korean stocks 1.4%. E-Mini futures for the S&P 500 lost 0.3%. Wall Street had faltered on Friday as some U.S. States reconsidered their reopening plans.
Covid-19 has exposed populist leaders
The dramatic spread of the disease, the high casualty rates in so short a period, the economic havoc that this pandemic has caused and the apparent inability of global science to bring it under control so far, all these have raised questions about how different governments and their leaders have coped with the challenges – medical, administrative, economic and political – thrown up by this catastrophe.
The Wire looks at pandemic management.
Dr Sangeeta Garg, medical superintendent of Yashoda Hospital, said, "Dr Lokesh came to the hospital on June 22 afternoon with high-grade fever, breathlessness and cyanosis (blue skin due to lack of oxygen). His Covid-19 test was done and his test result came positive. At 9.59 am Sunday, he passed away."

Muslim boys read the Koran and pray next to the grave of a relative who died from the coronavirus, at a graveyard in New Delhi on Sunday.
(Photo: REUTERS/Adnan Abidi)
Maharashtra set to extend lockdown
Maharashtra, India's worst-hit state, is set to follow Manipur in extending its coronavirus lockdown, which was due to end on 30 June.
Maharashtra's chief minister, Uddhav Thackeray, has said that restrictions will continue to be eased to help boost the economy, but warned: "We are walking on the edge, we have to walk slowly. Just because relaxations are being given, people shouldn't think that the battle is over. It's not."
Coronavirus live India updates: welcome
Hello and welcome to our live, India-focused coverage of the coronavirus pandemic, which has registered over 10 million cases and over 500,000 deaths worldwide, according to figures compiled by Johns Hopkins University.
We'll endeavour to keep you up-to-date with the latest developments as they emerge in India, where the Covid-19 crisis has led to more than 528,000 cases and over 16,000 fatalities.
.