Real Madrid player ratings vs Espanyol
Casemiro scored the game's only goal and Benzema provided an outrageous assist for it as Real Madrid lumbered to a win over struggling Espanyol.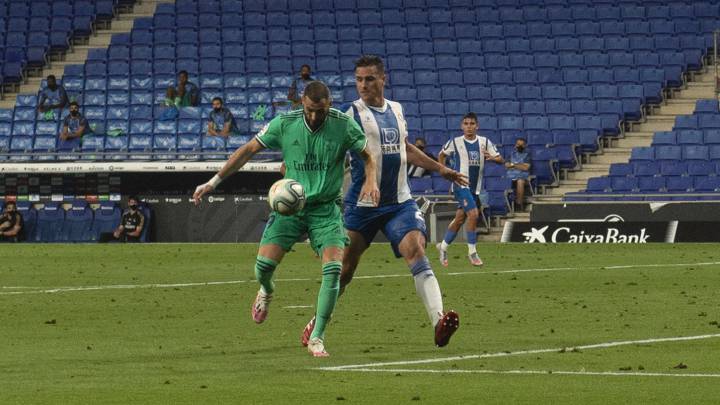 Courtois: saved Madrid with the game poised a 0-0 saving a direct free that was whipped in from the right-hand side. Saved from Wu Lei in the second half and a free from Raul de Tomas along with another shot from David Lopez. Convincing. - 8.
Carvajal: lacked a little bit of depth, like all of his teammates. Lack of energy was notable and he will be glad of a rest in the coming days and a possible rotation during the week - 6.
Varane: had problems dealing with Raul de Tomas in the early going. He did start to turn the battle in his favour though as time went on and ended up nullifying Espanyol's most potent threat - 7.
Ramos: like Varane, he had some problems early on with Wu Lei and De Tomas. Stuck at it and started to figure out their attack though. He was in very advanced positions and caused problems for Espanyol, which saw him involved in the goal as he headed on to Benzema - 6.
Marcelo: could not get forward far enough to cause problems and spent very little time in Espanyol's penalty area. Did not connect well with Hazard or create problems on the left. Wu Lei took advantage of the spaces he left at the back but they could not find the elusive goal - 6.
Casemiro: Madrid's best player in the first half and his goal would eventually settled things. His return after suspension the last day provided balance to Madrid in the middle but also gave them more options in attack - 8.
Valverde: playing as a right midfielder, he found it hard to get involved. Probided a lot of defensive cover but not in attack. With the arrival of Rodrygo, he played more central but not as effective as normal - 6.
Kroos: not as brilliant as he usually is but as time ticked by, he started to get a little bit more control and provided some steady possession and passing in the middle - 6.
Isco: susprise inclusion in the eleven and played on the right, drifting into the middle. Far from his best but provided a little bit of nuance to Madrid's attack even if it didn't work tonight. Replaced by Rodrygo after 63 minutes - 5.
Benzema: his importance comes not just from scoring goals but in his assisting and general involvement. The assists for Casemiro's goal was a work of art. Came close to scoring again with an acrobatic effort, which forced a save from Diego Lopez at the back post - 8.
Hazard: did not play on the left wing but was playing as a number 10 almost. Fouled on several occasions and provoked a lot of frees. Nowhere near his best and outshone by Benzema. Replaced by Vinicius on 63 minutes - 6.
Vinicius: came on for Hazard just after an hour. Zidane bet on Espanyol pushing forward and leaving spaces in behind but that is not how it worked out and the control game is not where Vinicius excels. Booked for a late tackle on Melendo - 5.
Rodrygo: came on for Isco after 63 minutes. Came on to do the same as Vinicius and while he didn't succeed, he did combine better with Valverde and Carvajal - 6.