Barcelona: president Bartomeu holds crisis talks with Setién
The radio station RAC1 says Barcelona chief Josep Maria Bartomeu spoke to Quique Setién at the coach's home in the wake of the draw with Celta Vigo.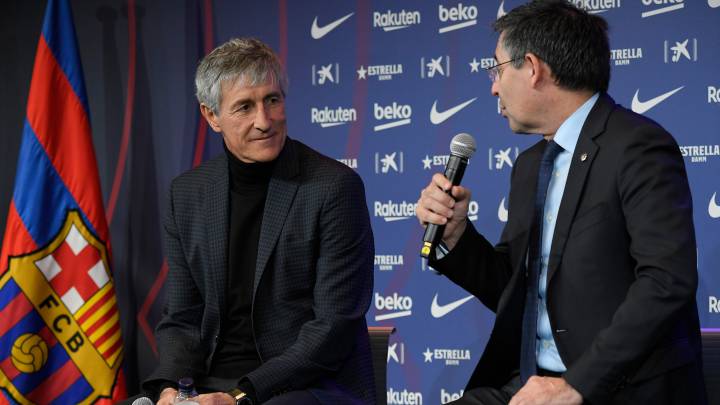 Barcelona president Josep Maria Bartomeu has reportedly held crisis talks with Quique Setién following Saturday's LaLiga draw with Celta Vigo.
Setién sits down with president amid apparent tension with squad
According to the Catalan radio station RAC1, Bartomeu met Setién at the head coach's home on Monday, together with sporting director Éric Abidal, first-team director Javier Bordas and CEO Óscar Grau.
RAC1 says Bartomeu sought to express his support for Setién, but it is thought likely that the Barça chief was also keen to learn more about the tense meeting the Blaugrana boss held with the players on Sunday, in the wake of apparent friction between team and coaching staff in the 2-2 draw at Balaídos.
‼️ NOTÍCIA @EsportsRAC1

El president, Josep Maria Bartomeu, el CEO, Òscar Grau, el vicepresident esportiu, Javier Bordas, i el secretari tècnic, Eric Abidal han estat al domicili particular de Quique Setién aquest dilluns a la tarda per valorar l'actual situació de l'equip. pic.twitter.com/x0oh5qvzDh

— El Barça juga a RAC1 (@FCBRAC1) June 29, 2020
Messi appears to brush off Barcelona assistant in Celta draw
Television images during a cooling break in Vigo appeared to show Lionel Messi disregarding Barça assistant Éder Sarabia's attempts to issue him instructions, with Ivan Rakitic and Luis Suárez also at the centre of similar incidents.
Heated words were allegedly exchanged in the away dressing room post-match, while Suárez seemed to point the finger at Setién and his backroom team when asked by reporters to explain Barça's poor away form, saying: "You'll have to ask the coaches".
Atlético, Villarreal clashes await Barcelona in crunch week ahead
Setién's talks with the players are believed to have been conducted in a conciliatory spirit, but relations between the dressing room and Barcelona's coaches nonetheless appear strained ahead of a week in which the Catalans take on Atlético Madrid on Tuesday and Villarreal on Sunday in crunch LaLiga fixtures.
Barcelona players said to be unimpressed with Sarabia approach
According to the radio station Cadena SER, the Barça players are not happy with the coaching methods employed by Sarabia, who has garnered attention for his explosive touchline presence since moving to the Camp Nou with Setién.
In March, the 39-year-old could be seen berating his players during a 2-0 Clásico defeat to Real Madrid, apparently leading Setién to urge him to dial down his volatile approach, amid concern that it was not being well received by the Barcelona players.
Speaking ahead of Barça's match against Atlético, Setién played down talk of tension between Sarabia and Messi, however, telling reporters: "In reality it is true that there are always controversies, as in life, and it is normal that there are differences. But this has always happened. I was not an easy player either […]. I understand it as something natural. There is good communication. I don't give it any importance."
Barcelona two points off leaders Real Madrid
Barça go into the clash with Atlético two points behind LaLiga leaders Real Madrid, who moved clear at the top of the table with a 1-0 win at Espanyol on Sunday.