BARCELONA
Barcelona: Setién not in imminent danger but far from safe
The players have isolated Setién and the board don't back him fully. A bad situation could be made terminally worse if they lose to Villarreal in their next game.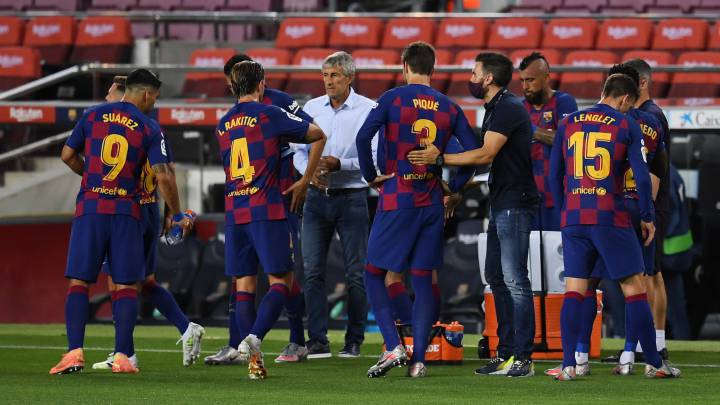 Barcelona have not lost since LaLiga restarted. Their three draws were not terrible performances either. Quique Setién is still under pressure. The Cantabrian arrived in Barcelona to change the dynamic and he has not changed achieved that. They are a point behind Real Madrid in LaLiga and that could be four if Madrid win on Thursday. The reasons for Barcelona's poor form and performances will be discussed at the end of the season but for now, all eyes are on the coach who has lost control after the 2-2 draw in Vigo.
At the moment, Setién remains in charge. He hasn't been sentenced yet but his position is considerably weaker. The players have lost faith in him despite a chat on Sunday to clear some of the air. The Griezmann affair is the latest in a string of controversies. The board of directors are starting to think now that the decision was not the best one. Reports leaked of a visit to Setién's home recently to assure him everything would continue as it is but in reality, there remain significant doubts. The problem is that the firing of Setién would also mean Abidal would come under the microscope. He was also responsible for sacking Ernesto Valverde and the current, failing appointment of the Cantabrian.
Setién was given the thumbs up by the Cruyffistas during his presentation but they are disappointed too. A loss against Villarreal could make a bad situation unsustainable because that would mean LaLiga is well and truly gone from their sights with a month before the Champions League return leg against Napoli.
Currently, he is not under as much pressure as he was on Saturday night after the Vigo draw but the situation is far from resolved. Garcia Pimienta, who just renewed with Barcelona B, is only thinking about promotion with the reserves but they said he would be ready if an urgent situation arose. At this very moment, anything could happen at Barcelona.