BARCELONA
Barcelona: Setién has a lot more convincing to do
Barcelona have suffered at home against Espanyol, Athletic, Getafe, Levante and Granada. During the Valverde era, they regularly wiped the floor with opponents at home.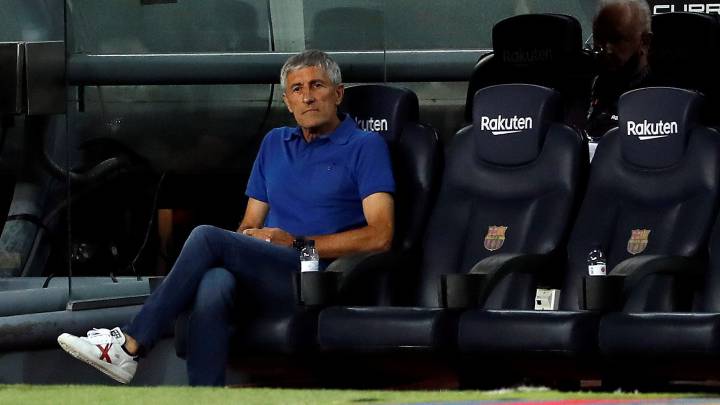 Quique Setién was pushed to defend himself last Tuesday after a 1-4 win over Villarreal at La Cerámica in LaLiga. The Cantabrian took over at Barcelona with the club sitting at the top of the league but now they are hoping Real Madrid trip themselves up as they hurtle towards the finish line. "You don't convince me," he said to the press responding to criticism of his work since taking over at the Camp Nou. Setién said he likes to view things with perspective and insists that many things have improved since he was handed the role at the club by Eric Abidal and Josep Maria Bartomeu.
The win over Villarreal emboldened Setién and gave him some room to speak out but since his arrival, the performances have not improved and that is evident in results and their standing in LaLiga. The results at home in particular have been unspectacular. During Valverde's reign, they beat Betis 5-2, Valencia and Valladolid 5-1, Sevilla 4-0 and Celta and Alavés 4-1. Setién has won 1-0 against Granada, Espanyol and Athletic Club and squeezed past Levante and Getafe 2-1.
Setién doesn't see it this way though. A club that won easily at home in recent years is now struggling to beat almost-relegated Espanyol. He does not see this as worrying, he sees it as the opposite and is not self-critical about the results. Barcelona were supposed to be given a boost upon Setién's arrival, winning games at home in as convincing a manner as they did under Valverde. In the last two years, Barcelona won the league at a canter and with an incredible goal difference. Now, sweating during games against teams at the bottom of the table at home is seen as the new normal.
The Barcelona manager has not convinced. He thanked Valverde for leaving him with a team at the top of the table but it looks like the league has slipped out of their hands. They have four more chances and are relying on Madrid beating themselves. Zidane's side play Alavés, Granada, Villarreal and Leganés during their run-in.
The Cruyff gene that Setién says he has might see them over the line. It was under the Dutch legend that Barcelona won two titles from 1992-94 when Tenerife and Depor did them a favour late on in the league. That's wishful thinking and Setién needs to win the last three games and do so in convincing style in order for Barcelona to reach the Champions League in form and to at least quieten the doubts that surround his position.
Bartomeu has said that the manager will "obviously" continue next season but he has a lot of convincing to do.