Coronavirus India summary: cases, deaths and news - 10 July
Coronavirus live India: latest Covid-19 news - 10 July
India Covid-19 update: 23:00 IST on Friday 10 July (19:30 CEST)
According to the latest figures published by John Hopkins University,12,333,740 cases have been detected worldwide, with 556,211 deaths and 6,784,579 people recovered.
In India, there have been 793,802 cases confirmed, 21,604 people have died and 495,516 people have recovered from the virus.
India sees cases climb steadily
India's fragile health system was bolstered during a stringent months-long lockdown but experts say it could still be overwhelmed by an exponential rise in infections.
India has tallied 793,802 infections and more than 21,600 deaths, with cases doubling every three weeks. It's testing more than 250,000 samples daily after months of sluggishness but experts say this is insufficient for a country of nearly 1.4 billion people.
But Dr Anant Bhan, a bioethics and global health researcher warned that there won't be just one peak in India. He pointed out that the capital of New Delhi and India's financial capital, Mumbai, had already seen surges, while infections had now begun spreading to smaller cities as governments eased restrictions. The actual toll would be unknown, he said, unless India made testing more accessible.
Oxford Covid-19 study: face masks and coverings DO work
Cloth face coverings, even homemade masks made of the correct material, are effective in reducing the spread of Covid-19 - for the wearer and those around them - according to a new study from Oxford's Leverhulme Centre for Demographic Science.
Professor Melinda Mills, Director of the Leverhulme Centre and author of the study, says, 'The evidence is clear that people should wear masks to reduce virus transmission and protect themselves, with most countries recommending the public to wear them. Yet clear policy recommendations that the public should broadly wear them has been unclear and inconsistent in some countries such as England.'
India sees more local coronavirus lockdowns as cases near 800,000
India reported a record 26,506 new coronavirus cases on Friday as authorities re-imposed lockdowns in its most populous state and in an industrial hub, home to automakers, drug factories and brewers.
The new cases pushed India's tally to nearly 800,000 cases, the world's third-biggest outbreak, behind only the United States and Brazil in confirmed infections.
There have been more than 21,000 deaths in India since the first case was detected there in January, federal health ministry data showed on Friday.
The capital, New Delhi, along with Maharashtra state, home to the financial capital of Mumbai, and the southern state of Tamil Nadu account for about 60% of its cases.
Bengal sees highest one-day jump of new cases
West Bengal on Thursday recorded 1,088 Covid-19 cases, its highest single-day spike in infections so far, pushing the tally to 25,911.
Eight Indian states account for 90% active Coronavirus cases in the country
Eight states, including Maharashtra, Tamil Nadu, Delhi, Karnataka and Telangana, account for around 90% of all active Covid-19 cases in India while 80% of active cases have been reported from 49 districts, the Group of Ministers (GoM) on Covid-19 was informed on Thursday.
The GoM was told that six states — Maharashtra, Delhi, Gujarat, Tamil Nadu, Uttar Pradesh and West Bengal account for 86 per cent of the deaths caused by Covid-19 and 32 districts account for 80 per cent of fatalities, the Union Health Ministry said.
Cricket-Asia Cup postponed due to COVID-19, Sri Lanka swap hosting rights with Pakistan
This year's Asia Cup tournament, originally scheduled for September, has been postponed due to the COVID-19 pandemic, the Asian Cricket Council (ACC) said on Thursday.
Pakistan, who were set to host the tournament this year in the United Arab Emirates, have exchanged hosting rights with Sri Lanka, who will stage next year's event, while the Pakistan Cricket Board will host the 2022 edition.
The ACC said in a statement it is hoping to stage the Twenty20 competition, which will feature six countries including India, Pakistan and Sri Lanka, in June next year.
"From the onset the ACC was keen on organising the tournament as per the original schedule. However, travel restrictions, country-specific quarantine requirements... have posed substantial challenges to the holding of the Asia Cup," the ACC said.
Indian Covid-19 figures examined
Here is an interesting thread on India's coronavirus numbers, courtesy of the BBC's Soutik Biswas: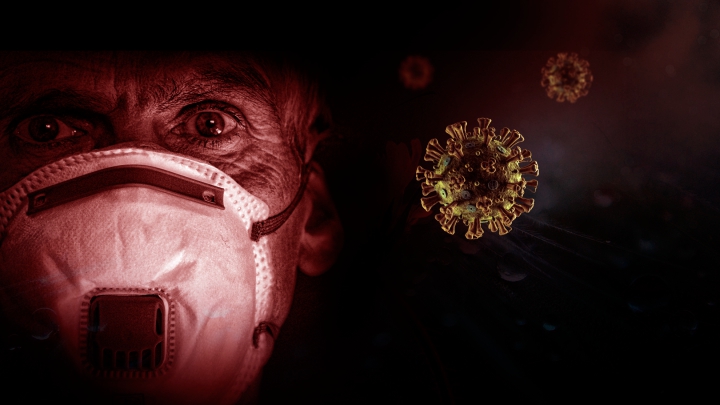 Coronavirus India updates: welcome
Hello and welcome to our live, India-focused coverage of the coronavirus crisis, which has already seen more than 12.2 million cases and over 550,000 deaths registered worldwide, according to figures compiled by Johns Hopkins University.