US NEWS
Why is Goya Foods facing boycott?
The company's CEO has praised Donald Trump and said Americans are lucky to have a leader like him. Unanue, the CEO, has refused to apologise.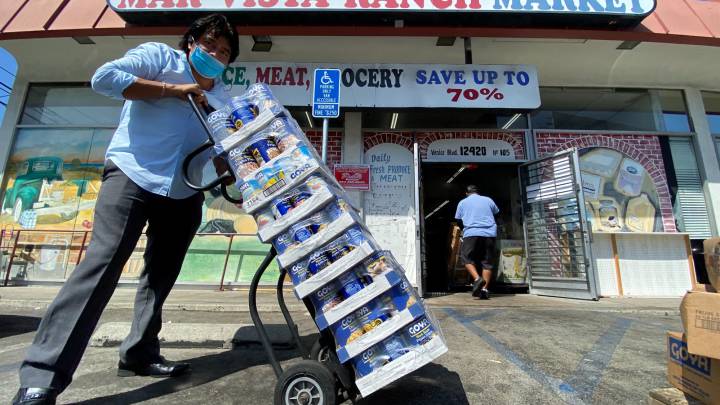 Goya Foods, the largest Hispanic owned food company in the United States, is facing a boycott after the CEO praised Donald Trump and said the country is "blessed" to have a leader like him.
"We're all truly blessed at the same time to have a leader like President Trump, who is a builder," said Unanue. "And thats what my grandfather did. He came to this country to build. To grow. To prosper. And so we have an incredible builder. And we pray. We pray for our leadership. Our president. And we pray for our country."
The comments were made at the White House where Unanue spoke after Trump signed the Hispanic Prosperity Initiative. The initiative has been described as an effort to improve access to educational and economic opportunities. Trump has been building a wall to keep Mexicans out of America, a project that was key to his campaign in 2016 when he was elected. He has referred to Mexicans as criminals in the past also and blamed illegal immigrants for much of the crime being carried out in the United States.
The CEO has refused to apologised. "It's suppression of speech," he said. "I'm not apologising for saying - and especially when you're called by the president of the United States - you're gonna say, 'no, I'm sorry I'm busy no thank you?'"
"I didn't say that to the Obamas and I didn't say that to President Trump."
GOP boycotting Nike over Kaepernick = "free speech"

Dems boycott anything= "suppression"

I know consistency isn't your thing, but pick a lane. Trump targeted Latinos on Day 1. Caged our kids. And you defend it.

Your habichuelas probably taste like your politics anyway: 0 sazón https://t.co/h21ZREFMTH

— Alexandria Ocasio-Cortez (@AOC) July 10, 2020
What do Goya Foods sell?
Goya sell Latino food in the United States and many Mexican immigrants feel a connection to the brand but feel badly let down by the CEO's comments.
"Goya is the one product that I know that my family used, that my mom still uses," Lina Baez-Rosario told the New York Times in an article about the boycott, "because it's the one that resembles home to them."
On their website they say: "The premier source for authentic Latino cuisine, Goya Foods is the largest, Hispanic-owned food company in the United States. Founded in 1936 by Don Prudencio Unanue and his wife Carolina, both from Spain, the Goya story is as much about the importance of family as it is about achieving the American dream."