MANCHESTER UNITED | EMILIO ÁLVAREZ
"United didn't fire me, I didn't want to coach De Gea anymore..."
Emilio Álvarez, the former goalkeeping coach for David de Gea and Manchester United explains why he left the club after Jorge Mendes cut ties with the Spaniard.
On 16 September 2019, Manchester United made official the renewal of goalkeeper David de Gea. The Spaniard signed until 2023 and the new deal made him the highest-paid goalkeeper n the world on more than €12 million net per year. The renewal had collateral damage and left important people in his entourage upset. Jorge Mendes would stop representing him as his agent and Emilio Álvarez gave up his position as the goalkeeper coach of Manchester United too.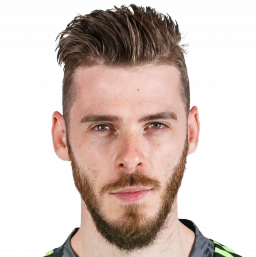 The deal was a long time in the works. After almost three years of negotiations between Manchester United and Jorge Mendes, a deal had been struck. Interest from PSG eventually forced the Red Devils to act and they made the former Atlético shot-stopper an offer he couldn't refuse. But just when it seemed a deal was agreed upon, a new face appeared on the scene - De Gea's lawyer. The new person sitting at the negotiating table asked for more money and Mendes, who had given United his word that €12 million a year was enough to get a deal done, asked for more money. The Portuguese super-agent felt he had been undermined and left De Gea altogether as his agent. United would eventually agree to the new, increased wages. Shortly after, the United goalkeeping coach left too after rejecting a renewal offer.

It's not true that Manchester United relieved me of my duties. In fact, once De Gea renewed, United put an offer on the table for me. It was me who asked to meet with the club so I could tell them I wanted to leave the club. It was at this meeting the asked me to renew. I told them I was going but not because I wanted to leave United. I wanted to stop coaching De Gea.
Aside from being his mentor at Atlético Madrid, where I backed him strongly, I was the person who convinced him to sign for United. I was his right-hand man in Manchester. I came to United thanks to the great work of Jorge Mendes and because Mourinho wanted to sign me to help David develop and to keep him at the club. At that moment, he wanted to leave United.
With the great relationship you have with De Gea, why did you decide to leave working with him?
After almost three years with lots of work and meetings with United to renew him and to make him the best paid player in the world, I learned that he had renewed behind my back. Honestly, it felt like a lack of loyalty. During negotiations, he also had a falling out with the person who had carried out all the talks in order for him to be paid what he was paid. And at the last minute, someone else meddled. I insisted that I didn't like that because it seemed disloyal. I asked David why he didn't say anything to me and he said that he was told not to say anything to anybody. This had an impact on me. The way I understand my profession is that you can't help someone develop if you do not have total confidence with them and that's why I decided to leave United.
What did you add to during De Gea's renewal talks?
Well, all the merit falls at the feet of Jorge Mendes, who did massive work for a number of years, working day and night. I added my own little grain of sand. Solskjaer asked me every day to speak with Mendes in order to get David to renew. The press was asking every day about it and there was a lot of pressure. There was pressure to speak to David so he would stay and not listen to other offers. Solskjaer was very worried.
Why didn't you leave when they sacked Mourinho?
I said to him that I was going with him but he told me to stay. He didn't know when he would be working again and the best was for me to stay at United. David and his people asked me to stay to continue my work with him too. I decided to remain faithful to my friendship and commitment to him.
Is it true that you had options to go to PSG and Madrid and rejected them to keep working with De Gea at United?
It's true. PSG and Madrid called me but I stayed with United so as not to leave De Gea. For me, that's loyalty.
Do you regret rejecting those proposals?
No, I felt that it was what I had to do in that moment. Between the right decision and the convenient one for me, I chose the right one and to be loyal. Today, my conscience is clear. I could have more money, I value being happy in myself much more than that. To this day, United fans show their love for me online and sometimes write to me saying De Gea isn't the same since I left the club. I'm a football man and I don't hold resentment. I keep the good times we shared, including the four titles we won together.
You have been the goalkeeping coach for Madrid, Valencia, Benfica, Atlético Madrid, Manchester United... and now what?
Well, now I am hoping for an interesting project and I'd love to return to coach keepers. It's what I've been doing all my life.
You were an academy player at Madrid and a coach at Madrid. Do you think that Pogba would be a good signing for Madrid?
I don't know but I do know that he is a footballer with all the talent to play at any club in the world. Physically he is incredibly gifted. Where he has problems is the area of the demands that come with being a star signing. At United, he was weighed down by the responsibility and the pressure of being a multi-million euro signing. He was anxious to show his level. I stayed with him after training and did extra work. I can tell you that he has incredible dexterity, talent and is incredible athletically. His success depends on his head. He needs to make challenges and to be more self-critical. He could be a great signing for Madrid.