MLS is Back: how the groups stand after the first round of games
The MLS is Back Tournament has begun smoothly, despite Major League Soccer having to deal with the withdrawal of FC Dallas and Nashville due to Covid-19.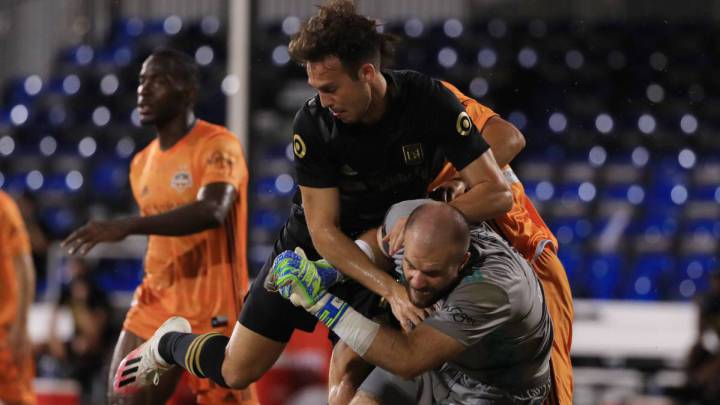 It has not been an easy path for Major League Soccer to organize the MLS is Back Tournament amid the coronavirus pandemic. Prior to the beginning of the event, FC Dallas and Nashville had to opt out because several players tested positive for Covid-19, which caused the rescheduling of several games.
The league handled all the problems well by rescheduling certain games, like Toronto and DC United's clash, and fixing the groups since there were two teams that had to drop out of the tournament. With all these problems, the first round of the group stage successfully ended yesterday, with Portland Timbers defeating LA Galaxy 2-1.
Group standings after first round of games

The first round left us with Javier Hernández scoring his first goal in Major League Soccer and Inter Miami still seeking the club's first victory in an official game. This is how each group looks like after the end of the first round:
Group A
| | | | | | | | | |
| --- | --- | --- | --- | --- | --- | --- | --- | --- |
| Club | PTS | GP | W | D | L | GF | GA | GD |
| Orlando City | 3 | 1 | 1 | 0 | 0 | 2 | 1 | 1 |
| Philadelphia Union | 3 | 1 | 1 | 0 | 0 | 1 | 0 | 1 |
| Inter Miami | 0 | 1 | 0 | 0 | 1 | 1 | 2 | -1 |
| New York City | 0 | 1 | 0 | 0 | 1 | 0 | 1 | -1 |
GROUP B
| | | | | | | | | |
| --- | --- | --- | --- | --- | --- | --- | --- | --- |
| Team | PTS | GP | W | D | L | GF | GA | GD |
| San Jose Earthquakes | 1 | 1 | 0 | 1 | 0 | 0 | 0 | 0 |
| Seattle Sounders | 1 | 1 | 0 | 1 | 0 | 0 | 0 | 0 |
| Chicago Fire | 0 | 0 | 0 | 0 | 0 | 0 | 0 | 0 |
| Vancouver Whitecaps | 0 | 0 | 0 | 0 | 0 | 0 | 0 | 0 |
Group C
| | | | | | | | | |
| --- | --- | --- | --- | --- | --- | --- | --- | --- |
| Club | PTS | GP | W | D | L | GF | GA | GD |
| NE Revolution | 3 | 1 | 1 | 0 | 0 | 1 | 0 | 1 |
| DC United | 1 | 1 | 0 | 1 | 0 | 2 | 2 | 0 |
| Toronto FC | 1 | 1 | 0 | 1 | 0 | 2 | 2 | 0 |
| Montreal Impact | 0 | 1 | 0 | 0 | 1 | 0 | 1 | 1 |
GROUP D
| | | | | | | | | |
| --- | --- | --- | --- | --- | --- | --- | --- | --- |
| Teams | PTS | GP | W | D | L | GF | GA | GD |
| Real Salt Lake | 3 | 1 | 1 | 0 | 0 | 2 | 0 | 2 |
| Minnesota United | 3 | 1 | 1 | 0 | 0 | 2 | 1 | 1 |
| Sporting Kansas City | 0 | 1 | 0 | 0 | 1 | 1 | 2 | -1 |
| Colorado Rapids | 0 | 1 | 0 | 0 | 1 | 0 | 2 | -2 |
GROUP E
| | | | | | | | | |
| --- | --- | --- | --- | --- | --- | --- | --- | --- |
| Teams | PTS | GP | W | D | L | GF | GA | GD |
| Columbus Crew SC | 3 | 1 | 1 | 0 | 0 | 4 | 0 | 4 |
| Red Bulls de Nueva York | 3 | 1 | 1 | 0 | 0 | 1 | 0 | 1 |
| Atlanta United | 0 | 1 | 0 | 0 | 1 | 0 | 1 | -1 |
| FC Cincinnati | 0 | 1 | 0 | 0 | 1 | 0 | 4 | -4 |
GROUP F
| | | | | | | | | |
| --- | --- | --- | --- | --- | --- | --- | --- | --- |
| Teams | PTS | GP | W | D | L | GF | GA | GD |
| Portland Timbers | 3 | 1 | 1 | 0 | 0 | 2 | 1 | 1 |
| Houston Dynamo | 1 | 1 | 0 | 1 | 0 | 3 | 3 | 0 |
| LAFC | 1 | 1 | 0 | 1 | 0 | 3 | 3 | 0 |
| LA Galaxy | 0 | 1 | 0 | 0 | 0 | 1 | 2 | -1 |