Coronavirus Africa summary: cases, deaths and news - 15 July
Africa: live updates - 15/07
Africa Covid-19 update: 02:00 WAT on Thursday 16 July (03:00 CEST)
According to the latest figures published by Johns Hopkins University, 13,496,583 cases have been detected worldwide, with 582,743 deaths and 7,522,796 people recovered.
South Africa: 311,049 cases / 4,453 deaths
Nigeria: 34,259 cases / 760 deaths
Ghana: 25,430 cases / 139 deaths
South Africa cases surpass 300,000, says health ministry
(Reuters) South Africa's cases of Covid-19 crossed 300,000 on Wednesday, the most in Africa and among the 10 highest in the world.
Africa's most industrialised nation recorded a rise of 12,757 cases on Wednesday to reach 311,049 confirmed Covid-19 cases, its health ministry said in a late evening statement four months since the first case was confirmed in the country.
South Africa has tested about 2.3 million people so far and has had 4,453 deaths since March 27, the statement said.
5,000 mosques re-open in Morocco
Morocco's Minister of Islamic Affairs Ahmed Toufiq said on Tuesday that 5,000 mosques will reopen on Wednesday, July 15, as part of the gradual lockdown easing strategy.
International flights resume in Senegal
An Air Algerie flight arrived at Dakar's international airport at midnight Tuesday and six other flights were scheduled to depart and arrive throughout the day, according to the Ministry of Air Transport.
WHO live Africa Covid-19 briefing
Four experts will stage a live screening to analyse the pandemic in Africa with Moeti Tshidi to be joined by Hon Dr Pierre Somse, Patrick Youssef & Adhieu Achuil Dhieu Kueth.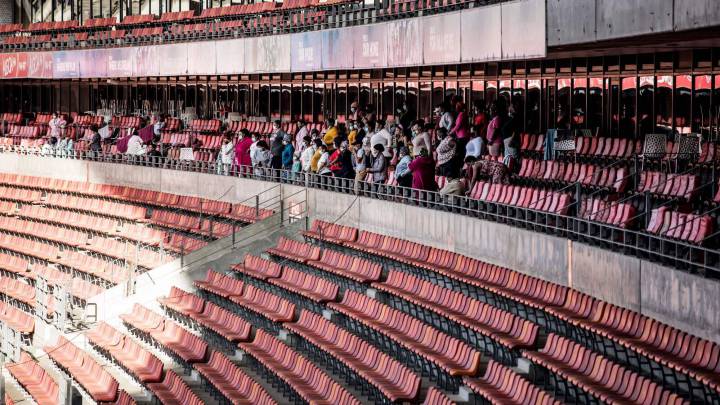 S.Africa cases set to reach 300,000 despite early lockdown
South Africa's cases of COVID-19 were set to reach 300,000 on Wednesday, the most in Africa and in the top 10 in the world, despite a swiftly imposed lockdown aimed at preventing infections spiralling as they did in the West.
Africa's most industrialised nation has 298,292 cases at the last count, and with positive tests now increasing at a rate of more than 10,000 a day, it is all but certain to vault over the 300,000 mark when the ministry releases nightly figures on Wednesday.
At the end of March, President Cyril Ramaphosa took aggressive, early action, shutting shops, ordering people to stay at home and sending the army on to the streets to enforce it - when South Africa had only 400 cases and no recorded deaths.
Covid-19 kills 4 Kenyan health workers, infections at maternity hospital rise
COVID-19 has killed four Kenyan health workers and infected 450, the health ministry said on Wednesday, as word emerged of a slew of cases in Kenya's biggest maternity hospital.
"Health workers handling patients with confirmed or suspected cases of coronavirus disease face an increased risk of exposure to the virus," Rashid Aman, the chief administrative secretary at the ministry of health, told a news briefing.
At least 41 of the staff at Pumwani maternity hospital in the capital Nairobi have been infected, said Patrick Amoth, the acting director general of health at the health ministry, adding that the cases were mild.
The race for a Covid-19 Vaccine, the Oxford University candidate
Recommended in-depth read from Bloomberg focusing on the Oxford University vaccine candidate and it's steps to be the first vaccine available to fight the virus.
Tunisia's president asks the prime minister to step down
Tunisian President Kais Saied on Wednesday formally asked the prime minister to step down, a move aimed at containing a political crisis in a North African nation whose sputtering economy was further battered by the coronavirus pandemic.
Saied's call, reported by independent radio station Mosaique FM on its website, came as a group of 105 lawmakers filed a formal no-confidence motion against Prime Minister Elyes Fakhfakh. The premier has come under fire for alleged conflict of interest.
SHS students "caught Covid-19 at home" – Nana 'B'
The National Youth Organiser of the New Patriotic Party Henry Nana Boakye popularly known as Nana B says SHS students who have tested positive for Covid-19 in schools caught the virus in their homes and brought it into school.
"It is important to note that the students who have tested positive for Covid-19 did not even contract the virus on their respective campuses, this is another strong point, that all of these cases, they brought it from their various homes," he stated at a party event in Kumasi on Tuesday.
Ethiopia has started filling Grand Renaissance dam on Blue Nile
Ethiopia has started filling Grand Renaissance, a giant hydroelectric dam it is building on the Blue Nile, its water minister said on Wednesday, a day after talks with Sudan and Egypt over the structure became deadlocked. "The construction of the dam and the filling of the water go hand in hand," Seleshi Bekele said in comments broadcast on a television
Doctor Aslam Dasoo (R) receives a nasal testing swab for COVID-19 coronavirus at a screening and testing drive at the Respiratory & Meningeal Pathogens Research Unit (RMPRU) at Chris Hani Baragwanath Hospital in Soweto on July 14, 2020. - Six senior clinicians in the Faculty of Health Sciences at Wits University have volunteered to participate in South Africa's first COVID-19 vaccine trial. (Photo by Luca Sola / AFP)
Hospital of horrors in South Africa
An exclusive, weeks-long BBC investigation inside filthy hospitals in South Africa has exposed an extraordinary array of systemic failures showing how exhausted doctors and nurses are overwhelmed with Covid-19 patients and a health service near collapse.
Coronavirus live Africa updates: welcome
Good morning and welcome to our live, Africa-focused coverage of the coronavirus pandemic, which has now registered over 13 million cases and 575,000 deaths worldwide, according to data compiled by Johns Hopkins University