"James will have no shortage of offers with Atlético an option"
James Rodriguez's step-father Juan Carlos Restrepo defended the Colombian international and claimed that the midfielder will not make a decision in haste.
James Rodriguez's stepfather Juan Carlos Restrepo once again has voiced his opinion and defended the Real Madrid player. In an interview with Colombian outlet Súper Combo del Deporte en Cali, Restrepo hinted that an exit from the Bernabeu was on the cards for the midfielder.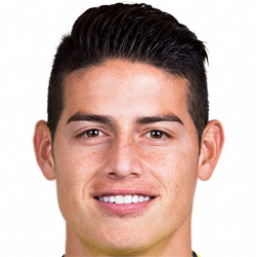 "My view is that James is a professional and he has behaved in this manner in recent times, working hard and showing his ability in every training session. James will listen to the advice offered to him by his agent (Jorge Mendes) and then make a coherent and responsible decision".
Upon being asked about potential destinations for his stepson, Restrepo replied: "I just want to see him happy and playing first team football on a regular basis. There are plenty of top class clubs interested in his services. I'm a big fan of Spanish football and he's been linked with   Atlético Madrid which I would love as they have wonderful fans and an excellent new stadium. We'll have to wait and see what transpires with it being impossible to rule out a move to the Premier League or Serie A too."