Coronavirus Africa news summary for 19 July
Coronavirus live Africa: latest news - 19 July
Africa Covid-19 update: 07:00 WAT on Monday 19 July (08:00 CEST)
According to the latest figures published by Johns Hopkins University, 14,507,491 cases have been detected worldwide, with 606,173 deaths and 8,133,663 people recovered.
South Africa: 364,328 cases / 5,033 deaths
Nigeria: 36,107 cases / 778 deaths
Ghana: 27,667 cases / 148 deaths
Some Kenyans think Covid-19 doesn't exist
A surprising amount of people in Kenya are skeptical about the coronavirus pandemic, the BBC reports. Since the crisis started, Kenya has a relatively low rate of infection and fatalities due to Covid-19 - 13,353 confirmed cases have been recorded while the current death rate stands at 234.
Moroccan fruit pickers finally head home: Some seasonal workers say goodbye with their hands inside the boat back to Morocco at Palos de la Frontera port on July 18, 2020 in Palos de la Frontera, Spain. Workers have been stuck in the province of Huelva since the strawberry season finished a month ago, due to the closure of the borders because of the coronavirus, Covid-19 pandemic.
(Photo by Juan Carlos Toro/Getty Images)
Nigerian Foreign Minister Onyeama tests positive for coronavirus
(Reuters) Nigerian Foreign Minister Geoffrey Onyeama said on Sunday he had tested positive for Covid-19, and became the first member of President Muhammadu Buhari's cabinet to contract the novel coronavirus.
Onyeama, 64, said on Twitter he had taken a Covid-19 test because of a throat irritation. "Did my fourth Covid-19 test yesterday at the first sign of a throat irritation and unfortunately this time it came back positive," he tweeted. "Heading for isolation in a health facility and praying for the best."
Buhari's cabinet has been conducting executive council meetings virtually as part of measures to keep the government working while abiding by social distancing rules.
Zimbabwe arrests 100,000 for "coronavirus violations"
The BBC reports that over 100,000 people have been arrested in Zimbabwe since March for violating Covid-19 restrictions designed to halt the spread of the disease. According to police, those detained were in breach of coronavirus protocols such as not wearing face masks.
However, the government of President Emmerson Mnangagwa has been accused of using the measures to target the opposition and arrest activists, allegations it denies.
Kenya update
Kenya's coronavirus case tally has now risen to 12,750 after 688 new cases were recorded on Sunday.
South Africa cases continue to rise
South Africa now has the fifth-highest number of infections in the world, according to the latest figures. The country has recorded over 350,000 cases since the outbreak reached its shores.
Facebook rumours about blue masks debunked
Two Facebook posts have been doing the rounds in Africa urging people not to wear blue face masks as they are supposedly contaminated with toxins.
One post reads: "Dear Africans, avoid wearing the blue masks that are made in America and Europe because these masks contain suicidal toxic [sic]".
In the piece below, the BBC comprehensively debunks this false information:
Record daily global surge in cases
The World Health Organization said on Saturday that the number of worldwide coronavirus cases had risen by over 250,000 in 24 hours, in what is the largest single-day spike recorded since the pandemic began. It is the first time that the daily global case count has surpassed the quarter-of-a-million mark. The WHO also reported a record 7,360 new fatalities.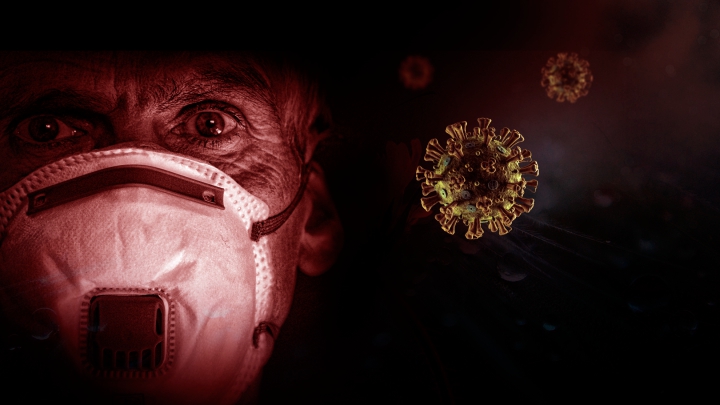 Coronavirus live Africa updates: welcome
Hello and welcome to our live, Africa-focused coverage of the coronavirus pandemic, which as of 07:40 WAT had registered just under 14.3 million cases and more than 602,100 deaths worldwide, says Johns Hopkins University. According to the latest World Health Organization count for Africa, there have been almost 664,000 cases in the continent, leading to approximately 14,400 fatalities.