Sánchez: Qatar are extra motivated for the 2022 World Cup
The Spanish tactician, who led The Maroons to 2019 Asian Cup glory, says opening the tournament on home soil will give his side a boost.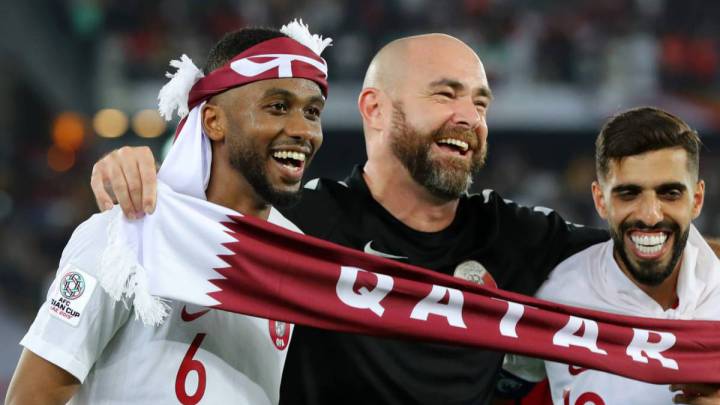 The 2022 World Cup not only marks the first time that the Qatar national team will take part in the tournament, as the host nation, it is also the culmination of a long-term plan to foster the current generation of players who will represent the country on the international stage. The challenges on the pitch will be significant but the work of the Aspire Academy to licence and train Qatar's current crop has laid the foundations for Félix Sánchez's side to meet the test head-on: the Maroons lifted the 2019 Asian Cup under the Spanish tactician to become champions of Asia for the first time in history.
Sánchez's leadership has been one of the main factors in Qatar's recent success. The former FC Barcelona youth coach joined the Aspire Academy in 2006 and later took charge of the Qatar under-19s, moving from through the junior age group sides until he took over the senior squad in 2017. The wealth of knowledge of the players Sánchez has at his disposal has allowed him to get the best out of the current generation of Maroons, who won every game at the 2019 Asian Cup, scoring 19 times and conceding just once in the 3-1 victory over Japan in the final.
After the schedule for the 2022 World Cup was announced confirming that Qatar will play in the inaugural match at the Al-Bayt Stadium, the second largest of the host venues, Sánchez expressed his satisfaction that his side will lift the curtain on the tournament and said it will provide extra motivation for his team and the country as a whole.
Sánchez: inaugural game will be a special occasion
"The announcement of the schedule marks the fact that the 2022 World Cup is around the corner, which makes us even more determined to make the opening game a special occasion with a sophisticated image," Sánchez said. "It's amazing when as of now you're looking at all the details about the opening game of the 2022 World Cup. It adds more excitement and gives us the desire to carry on with the preparations and the work for the show to get started in the Al-Bayt."