Real Madrid: Hazard bemoans "worst season of my career"
In an interview in France, Real Madrid's Eden Hazard has looked back on what has been an injury-plagued first year in LaLiga.
Eden Hazard arrived at Real Madrid with the 'galáctico' tag, bought for a nine-figure fee after proving himself a match-winner in his seven years in the Premier League with Chelsea. However, he hasn't lived up to that billing in a first season in Spain that has been ravaged by injury.
After slow start, two ankle injuries hit first year at Real Madrid
Hazard's underwhelming year hasn't only been down to bad luck, though. He reported for pre-season woefully out of shape last summer and took a long time to get up to speed. Albeit he was not helped by an August lay-off with a hamstring strain, he had only just hit his stride when he broke his ankle in November - an injury that curtailed his improvement and derailed his campaign. After returning in February, he promptly suffered a relapse and had to go under the knife.
Following LaLiga's return from its coronavirus-motivated suspension in June, the Belgian looked in good physical nick, but failed to take off. Given an unexpected second chance to turn his first season at Madrid around, he has been unable to match the sharpness shown by the rest of Zinedine Zidane's side.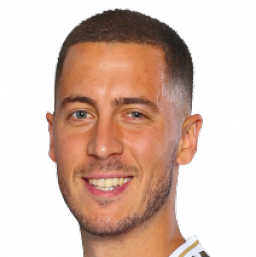 Hazard: "On a personal level it's probably been the worst season of my career"
Now, in an interview given to Franceinfo in the wake of Madrid's league title win, Hazard has pulled no punches about his time so far with Los Blancos. "As a team we won LaLiga this year, but on a personal level it's probably been the worst season of my career," the forward acknowledged.
He may be disappointed with himself, but Hazard certainly doesn't feel underwhelmed by the experience of working with Zidane, a coach who worked long and hard to bring him to the club. "We all know what Zidane was like as a player - he was the best," Hazard says. "As a coach, what more can you say?
"In just a few years, he's shown that he's one of the best. As a coach, he's like he was as a player. He's a straightforward guy who knows what to say and when to say it. He trusts his players and his players trust him - that's why he gets results."
Benzema has shown he's the "best in the business"
Asked about his French club-mates - Karim Benzema, Raphael Varane and Ferland Mendy - Hazard was also fulsome in his praise. "Benzema is a really nice lad to work with on a daily basis," the 29-year-old reveals. "He's very straightforward. He's there to win games, to score goals. I think he's shown once again this year that he's the best in the business, simple as that.
"Then there's Varane. During my career, I've encountered some great defenders, such as John Terry and Vincent Kompany. Even though he's still young, I think Varane is already one of the best centre-backs in the world. His partnership with Sergio Ramos is fantastic.
"As for Mendy, he's shown he wasn't only brought in to look pretty. If the club has signed him, it's because he has qualities to bring to the team. It's never easy to arrive at a club like this when you're so young, but he has shown that he's got a really bright future here."
Getting past Man City in Champions League "will be tough", says Hazard
Having secured their 34th LaLiga title, Madrid's sights now turn to the Champions League, in which they must first overturn a 2-1 deficit in their last-16 return with Manchester City in just under three weeks' time. Looking ahead to that second leg, Hazard is well aware that the 13-time European champions face a tough task to qualify for August's eight-team mini-tournament in Lisbon.
"It has been a slightly strange season, what with everything that has happened," he says. "It's already been a successful campaign, but if we can qualify [for the quarter-finals] in our last-16 second leg, it could get even better. When you play for Real Madrid, you want to win trophies. The next one has to be the Champions League, but it'll be tough, because we have to go to City and they have a very good side."