Real Madrid: Sergio Ramos reaches 100 goals at club level
The centre-back reached his century against Leganés at Butarque. He has scored 97 for Real Madrid and three for Sevilla. He is the top scoring defender in LaLiga history.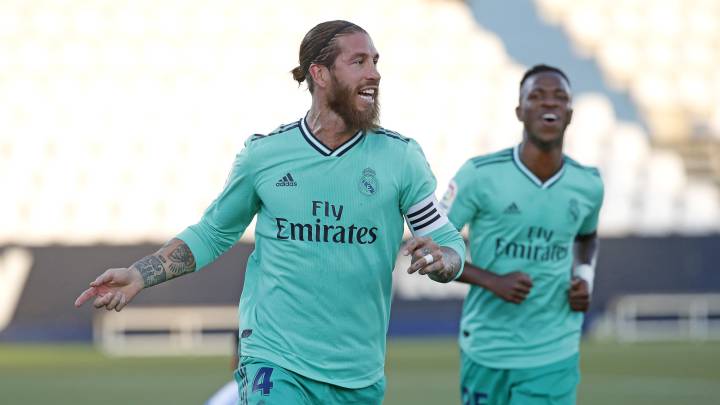 Sergio Ramos reached a new milestone tonight, scoring his 100th goal at club level in Spain. The Real Madrid captain nodded in the opener against Leganés at Butarque - a goal which also makes him the highest-scoring defender in LaLiga history. In total, he has scored 97 goals for Real Madrid and three for his previous club, Sevilla.
4


Ramos' century of clubs goals have come in all of the various different domestic and European competitions. With Sevilla, he scored two in LaLiga and one in the UEFA Cup. His tally for Real Madrid - including tonight's goal at Butarque, can be broken down as follows: 72 goals in LaLiga, seven in the Copa del Rey, 13 in the Champions League, three in the Club World Cup, two in the Spanish Super Cup and two in the European Super Cup.
The top-scoring defender in LaLiga history
No other defender has scored as many goals as Sergio Ramos in the history of the Spanish league. In second place, Ronald Koeman scored 67 goals. And while Fernando Hierro ended his playing career on 105 goals, almost half of them, 44 were scored when he was playing as a midfielder.
Ramos, 21 goals for Spain
Let's not forget the goals which Ramos has contributed to the national team. With Spain, he has found the net 21 times - five of those goals were scored in friendlies, eight in qualifying for the Euros, five in World Cup qualifiers and three in the UEFA Nations League.
Now, all that is left for Ramos to do is score in the final competition of the Euros and World Cup, something which he has never achieved. Nor has he scored in the Confederations Cup.