Real Madrid: Zidane's plan ahead of Manchester City second leg
Having sealed their 34th LaLiga title, Real Madrid are now aiming to turn around their Champions League last-16 tie against Man City.
Right now, we're seeing what Real Madrid are all about: Los Blancos are a club where, even as the players, coaches, directors and fans savour a major trophy triumph, there is no let-up in the demand for success.
Real Madrid attentions turn to Man City Champions League tie
Thursday's confirmation of Madrid's 34th LaLiga title win had barely had time to sink in before their focus turned to two outstanding tasks: firstly, clocking up an 11th straight victory by beating Leganés on the final day of the league season - a goal that ultimately eluded them - and, secondly and most importantly, turning around their Champions League tie with Manchester City.
Having celebrated the championship on Friday, trained on Saturday and faced Los Pepineros on Sunday - in a game that finished 2-2 - the squad have now been given seven days off by head coach Zinedine Zidane, who wants his players to recharge their batteries before getting back to work on 27 July with City firmly in their sights.
Real Madrid without suspended Sergio Ramos, injured Agüero absent for Man City
February's 2-1 first-leg defeat means Madrid face an uphill battle to qualify from the last 16 when they visit the Etihad Stadium on 7 August, particularly without the suspended Sergio Ramos, who has been in sparkling form.
Since English football's return from suspension, City have won seven games and lost three, with not unimpressive goals-per-game averages: 2.7 for, 0.6 against.
However, Pep Guardiola's men have been left reeling by their 2-0 FA Cup semi-final defeat to Arsenal on Saturday, and will host Madrid missing a key man of their own: striker Sergio Agüero has not played since June, having undergone surgery on a meniscus injury suffered in City's second game after the Premier League restart.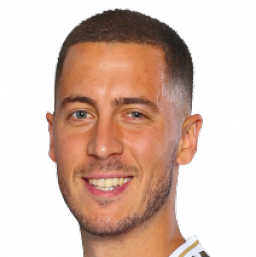 Zidane yet to lose Champions League knockout tie as coach
Agüero's absence will likely serve to boost optimism among Madridistas, as will the return of a sharper Eden Hazard to the side. The Belgian, who missed Sunday's draw with Leganés, is aiming to use the break in play before his side's trip to Manchester to get himself into peak condition for the crucial clash.
As they look to defeat a side that has lost three out of 24 home games this term, the visitors will also be helped out by the lack of fans in the Etihad.
However, perhaps the chief ace up Real Madrid's sleeve is Zidane, who has never lost a knockout tie in the Champions League as a coach: so far, the Frenchman has three title wins from three attempts.