Coronavirus Africa summary: cases, deaths and news - 23 July
Coronavirus live Africa: latest news - 23 July
Africa Covid-19 update: 23:30 WAT on Thursday 23 July (00:30 CEST Friday 24 July)
According to the latest figures published by Johns Hopkins University, 15,356,780 cases have been detected worldwide, with 626,357 deaths and 8,721,542 people recovered.
South Africa: 408,052 cases / 6,093 deaths
Egypt: 90,413 cases / 4,480
Nigeria: 38,344 cases / 813 deaths
High cost of treating severe Covid-19 patients in Lagos
Lagos State Commissioner for Health, Prof Akin Abayomi, has said that the government spends up to N1m daily on each COVID-19 patient in critical condition, (Sahara Reporters) and added that the state might have reached the peak of infections by next month.
Abayomi said that the government spends averagely about N100,000 daily to treat a mild patient while it costs about N500,000 to N1,000,000 to treat a patient with a serious case.
Lagos Coid-19 cases may be 10 times higher
The Lagos State Government has stated that at least 130,000 residents may have already been infected with Covid-19. Commissioner for Health, Prof. Akin Abayomi, said that for every person who tests positive for Covid-19, there are potentially 10 others who are positive but are not aware.
"Lagos presently has 13,543 confirmed cases of COVID-19. If you times that by 10, it gives you over 130,000 cases. This is the more reason everyone needs to follow all health protocols because the threat is still very much out there. The number of cases from the community total 9,066, but active community cases amount to 2,036, with 192 deaths in the state."
People are relaxing but the virus is still out there - WHO
Dr. Matshidiso Moeti made a plea for the public to remain cautious and take adequate measures to limit the spread of coronaviris, by maintaining good hygiene, wearing a face mask and keeping social distancing rules. "People play their role in limiting the spread. We need to find multiple ways for tackling this virus," she explained.
South African public schools to close as cases rise over 400,000
South African public schools will close for a four-week break, with some exceptions, President Cyril Ramaphosa said in an address to the nation on Thursday, as confirmed coronavirus cases rose over 400,000.
Ramaphosa said it was important to ensure that schools did not become sites of transmission at a time when the country's coronavirus cases are rising at one of the fastest rates in the world.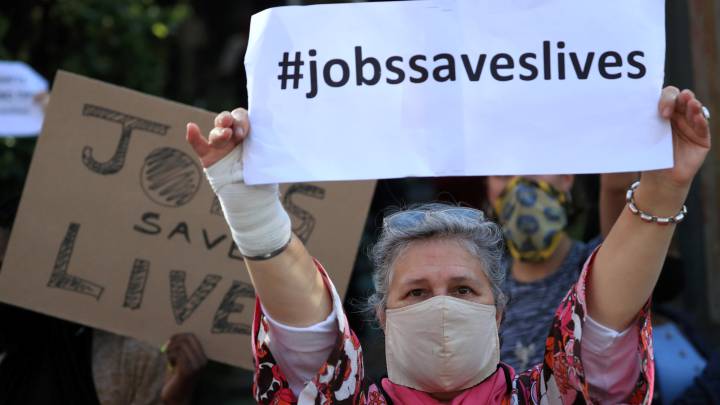 Feeding scheme in South Africa amid Covid-19 pandemic
Volunteers in Johannesburg, South Africa, wait to feed local people during the weekly feeding scheme at the Heritage Baptist Church in Melville on the 118th day of lockdown due to the coronavirus.
With a huge increase in virus infections and deaths now occurring in South Africa, food insecurity remains a massive issue. These volunteers from the area and working for the Viva Foundation wear full PPE suites to protect themselves while helping to feed approximately 500 people per week at the church.
(Photo: EFE/EPA/KIM LUDBROOK)
South Africa death toll 11,000 too low?
The results of a study carried out by South Africa's Medical Research Council suggest that the country's coronavirus fatality rate may be some 11,000 higher than officially reported.
According to a report by the BBC, data collected by the Medical Research Council found that there have been 17,000 more deaths than there would usually be at this time of year.
South Africa has reported just under 6,000 deaths from nearly 395,000 cases.
S.Africa expands virus loan scheme, may stop lenders blacklisting borrowers
South Africa's government outlined on Wednesday changes to boost take-up of its 200 billion rand ($12 billion) coronavirus-related loan scheme and said it might temporarily bar lenders from blacklisting borrowers whose credit records have been hit.
In a document on budget adjustments in the wake of the pandemic, the National Treasury said it had made changes to the loan scheme to help more virus-hit firms benefit. Only 10.6 billion rand of the funds had been paid out by July 7.
Changes included replacing a cap on the turnover of eligible companies with a 100 million rand limit on loan size, expanding what the money could be used for and doubling the period over which it could be drawn down to six months, it said.
COVID-induced khat shortage adds to health problems in Somalia
Somalia is a major market for khat, which is grown in neighbouring Kenya's fertile central highlands and soon after harvesting driven at high speeds to Nairobi airports for distribution to consumers abroad.
Once the khat arrives in Mogadishu, men gather in groups to chew the leaf, a mild stimulant, and chat into the early hours.
Somalia shut down flights in late March to curb the spread of the virus, meaning the drug could no longer be imported by air from Kenya.
That affected users, causing some to go for long periods without sleep, said Abdirashid Abdulahi, a doctor at Mogadishu's Habeeb Psychiatric Emergency Hospital.
"The withdrawal symptoms have come out," he said, adding that those who do manage to get to sleep often suffer from nightmares.
The price of khat had surged to as much as $300 per kg from $20 when the flights were stopped due to the coronavirus restrictions, putting the commodity out of reach for most users
Gambia hold state funeral for Biri Biri
The former Sevilla hero died last week in neighbouring Senegal and was laid to rest in his native Gambia with the event attended by many dignitaries from the Gambian government.
Sinopharm says coronavirus vaccine could be ready by year-end
A coronavirus vaccine candidate developed by China National Pharmaceutical Group (Sinopharm) could be ready for public use by the end of this year, state media reported on Wednesday, ahead of a previous expectation it may become available in 2021.
Sinopharm Chairman Liu Jingzhen told state broadcaster CCTV the company expects to finish late-stage human testing within about three months.
Sinopharm's unit China National Biotec Group (CNBG), which is responsible for two coronavirus vaccine projects, said in June the shot may not be ready until at least 2021 as a lack of new infections in China made it difficult to find people to test it on.
South Africa has recorded a jump of nearly 60% in overall numbers of natural deaths in recent weeks
The figures would suggest a much higher toll of coronavirus-related fatalities than officially reported in figures released by The South African Medical Research Council (SAMRC).
South African restaurants plead for end to 'job-killing' restrictions
Thousands of South African restaurant and bar owners placed tables and chairs on the streets outside their premises on Wednesday in a nationwide protest against lockdown restrictions that prevent them from selling alcohol or trading after 9 p.m.
The nation's hospitality sector is one of the hardest-hit by government restrictions imposed at the end of March to curb the spread of the coronavirus.
At the end of June, restaurants were allowed to offer sit-down services again, but at limited capacity and without serving alcohol.
Egypt extends operating hours of cafes, restaurants until midnight from July 26
Egypt has extended the operating hours of cafes and restaurants from 10:00 p.m. to midnight while allowing them to operate at 50% capacity starting July 26, the cabinet said in a statement on Wednesday.
The operating hours of stores, including malls, were also extended until 10:00 p.m., the statement said.
Egypt had reduced operating hours in its initial reopening phase to limit public gatherings and curb the spread of the coronavirus.
Armed with social media, Zimbabwean youth fight coronavirus 'infodemic'
Drinking alcohol will kill the coronavirus. It is OK to share face masks. Africans cannot get COVID-19. The pandemic is not even real.
These are some of the coronavirus myths that a team of 20 Zimbabwean youth have been busting online since the country's lockdown began in late March, using social media and radio shows to reach an estimated 100,000 people to date.
"There is a common saying that 'ignorance is bliss'. Well, in this instance, ignorance is not bliss, if anything ignorance is death," said Bridget Mutsinze, 25, a volunteer based in the capital, Harare.
Although relatively low compared to the rest of the continent, Zimbabwe is experiencing an uptick in the number of coronavirus infections, with more than 1,800 cases and at least 26 deaths, according to a tally by Johns Hopkins University.
To stem the spread of the disease, Zimbabwean youth working with development charity Voluntary Service Overseas (VSO) have taken to Twitter, WhatsApp, Facebook and radio to comb through online comments, identify and correct COVID-19 misinformation.
The spread of coronavirus misinformation has been a global issue, with the World Health Organization describing it as an "infodemic".
Islamist militants in northeast Nigeria execute four aid workers
Islamist militants in northeast Nigeria have executed four aid workers and a private security guard, according to a video seen by Reuters on Wednesday.
International Rescue Committee and Action Against Hunger, both aid groups, confirmed the killing of their colleagues and other humanitarian workers in statements condemning the executions.
Last month, the militants released a video in which the hostages identified themselves.
The execution underscores the increasing risk for aid workers in northeast Nigeria, where a decade-long conflict with Boko Haram and Islamic State's regional ally has fuelled one of the world's worst humanitarian crises.
Pandemic effect on Egypt's economic growth
Egypt's economic growth will slow to 3.1 per cent in the 2020/2021 fiscal year, according to a Reuters poll.
Growth is down due to the country's coronavirus pandemic, which has negatively affected tourism revenues.
As the price of gas has fallen, expat Egyptians living in the oil rich Gulf states have sent fewer remittances back home.
According to the report, if coronavirus continues until the end of this year growth could slow to two per cent in contrast to the expected 3.5 per cent.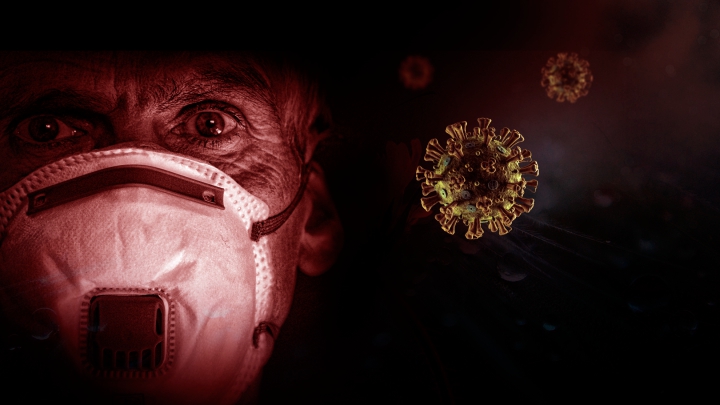 Coronavirus: the complete guide to the Covid-19 pandemic
Coronavirus: the complete guide to the Covid-19 pandemic
In this guide you'll find a summary of many of the recommendations and explanations provided by the World Health Organization (WHO) and other public health authorities, along with answers to many of the most frequently asked questions about the coronavirus.
Coronavirus live Africa updates: welcome
Hello and welcome to our live, Africa-focused coverage of the coronavirus pandemic, which as of 08:00 WAT had registered just over 15.2 million cases and more than 623,000 deaths worldwide, according to figures by Johns Hopkins University.