Real Madrid: Zidane is defining a new era for Los Blancos
With 210 matches already under his belt, French coach Zinedine Zidane has already delivered some impressive achievements, with some seeing a new dynasty emerging.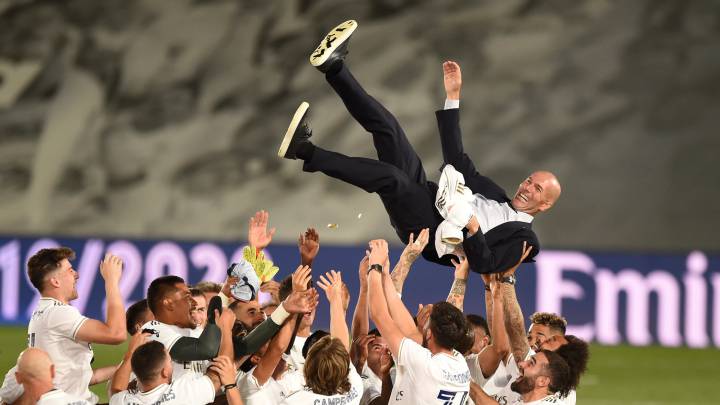 "When you are the head coach, everything happens through you, you make all the decisions. Being a coach is like being alone." The reflection, made by Real Madrid's Zinedine Zidane to Frédéric Hermel in his passionate and intimate biographical book 'Zidane', summarises his work.
And the coach, with his diverse and discreet playbook, is creating an era for Los Blancos. After 210 matches at the helm (141 wins, 26 losses and 43 draws across his two stints that have run January 2016 to June 2018 and March 2019 to the present day), his legacy is proving to be one of the most successful periods for madridistas. Since January 2016, when he took over the first team, he has won more titles than another manager in the big five European leagues with 11. Only Pep Guardiola, with 10, is close. We look at some of the factors that are defining the Zizou era.
Three consecutive Champions Leagues
Among those 11 titles won, the three consecutive Champions Leagues stand out, something unprecedented in the modern history of the European Cup (previously Real Madrid in the 1950s as well as Ajax and Bayern Munich in the 1970s had achieved this feat). Now he faces another massive challenge: eliminating Manchester City from a deficit to continue in this season's competition.
And it's worth noting ahead of that second leg that as coach Zidane's side has never been beaten over two legs. Nine knockouts have been successfully negotiated thus far by the Frenchman but overcoming Pep Guardiola's well oiled machine with something to prove will be a big ask on 7 August.
One title every 19 games
As already stated, the French coach has been in charge of Madrid for 210 games, and in that time he has won 11 titles. Three Champions Leagues, two LaLigas, two Spanish Super Cups, two European Super Cups and two Club World Cups complete that haul. That works out as a title, be it domestic or international, every 19 games. That's just half a season.
The one trophy that still evades him - although unlikely to cause him too much lost sleep - is the Spanish Copa del Rey, something he wasn't able to win as player either. The two finals he played in were in 2002 and 2004 but lost them both.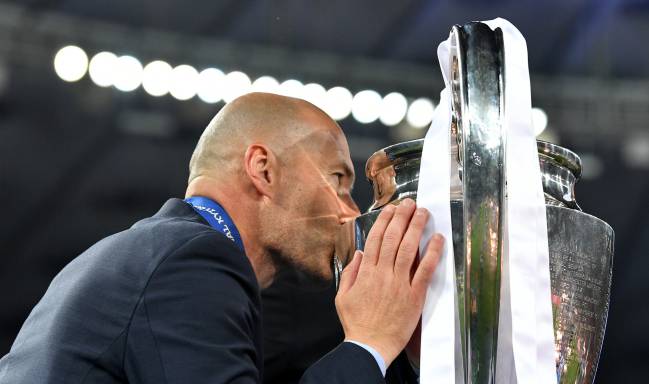 Two LaLigas from three
Another of Zidane's great achievements has been bringing home two Spanish league titles in two difficult seasons. The first in 2016-17 came after five long years of waiting. The second, still being celebrating in late July, came after the enforced break due to the coronavirus pandemic.
When the league was brought to a sudden halt Madrid were just two points away from Barça, but they returned with a tremendous set of results, adding 31 points of a possible 33. And that was without being able to really call upon their star Eden Hazard who had never fully recovered. Expect him to play a big role going forward, almost like a new signing.

Miguel Muñoz and Pep in sight
After winning his second league title, Zidane's overtook the tally of Johan Cruyff, who won 10 titles with Barcelona. In Spain that leaves just Miguel Muñoz and Guardiola, who both won 14 titles each with Madrid and Barcelona, respectively.
It's worth noting that Muñoz took 14 seasons to achieve his haul whereas Guardiola did it in one of the most fruitful periods of the Catalan club (2008-2012). Overcoming that is just another challenge that lies ahead for Zizou.
After 59 years, a special double
Real Madrid under Zidane saw a very special double repeated after wining LaLiga and the Champions League in the same year (2017). This is something that had not been seen at the club for 59 years (since 1958). Previously they had also achieved it during the 1956-57 campaign.
Since then, however, although multiple trophies, including the domestic double, had been won by Los Blancos, but never the big two together. On 7 August Zidane will go to Manchester (virus permitting) in what he hopes is the next step towards history making for the Spanish giants.