De Bruyne eyes Champions League glory for Silva's swansong
Manchester City fell short in David Silva's final league campaign with the club but Kevin de Bruyne is aiming for the one prize that has eluded them.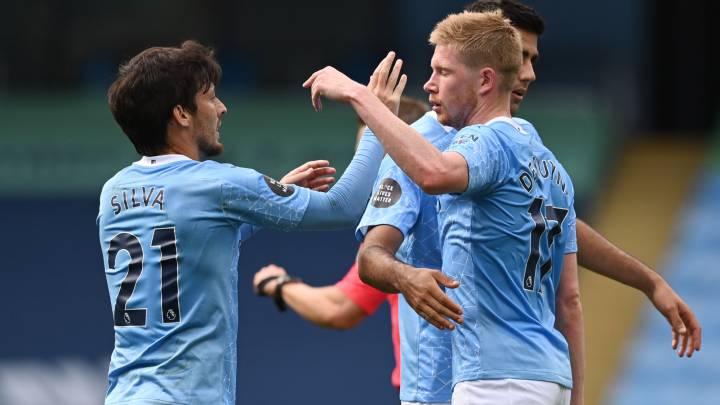 David Silva's Premier League career came to an end on Sunday as he captained Manchester City for one last time in a comfortable 5-0 victory over Norwich City. An empty Etihad Stadium was not the stage that he would have wanted but he was applauded off the pitch by teammates after being substituted towards the end of his 309th Premier League game.
But that is not quite the end of Silva's time in sky blue with the second leg of their Champions League round of 16 tie against Real Madrid scheduled for 7 August. There had been rumours that the UK government's new 14-day quarantine rule for travellers from Spain could disrupt the fixture, but the Department for Digital, Culture, Media and Sport has confirmed that the tie will be exempt.
Silva, one of the best players in Premier League history
Silva has been City's creator-in-chief for much of his decade in Manchester but that mantle has now passed to Kevin de Bruyne, who notched a 20th Premier League assist of the season against Norwich. The Belgian spoke to the Manchester Evening News after the game about Silva's impact in England.
"For me he's probably one of the best players who's probably ever played in the Premier League," said De Bruyne. "Obviously you can always debate who is what but when you play with him you can appreciate what he does, day in day out. I've played with him for five years so I've played a long time with him. We've won a lot together."
Silva has won four Premier League titles, two FA Cups and five League Cups during his time at the Etihad, but continental success has always eluded him. De Bruyne spoke about wanting to win the Champions League to repay the departing Spaniard who has been so influential during his time at the club.
"He's going to be a big miss. That's why you get young players in and learn from him. I did that myself, and hopefully we can end the season well for him. It would be great if we would win the Champions League so he can go in this way.
"I think we played fairly okay [in the Premier League], but we lost too many points. Liverpool was better this season, that's the way it goes. But we still have a lot of things to play for so let's hope we do well and next season or in a month it will happen then."