Guardiola plays the wolf in sheep's clothing
Despite Man City's clear advantage, Pep Guardiola has heaped the pressure on Real Madrid by praising Zinedine Zidane and his side's ability to stage comebacks.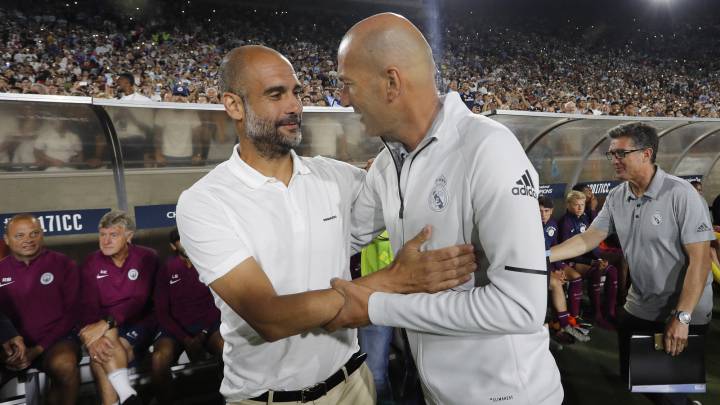 As his side prepare for the second leg of the Champions League quarter final at home against Real Madrid holding a 2-1 lead, Pep Guardiola has opted to play the role of the wolf in sheep's clothing. The former Barcelona coach took advantage of an interview with DAZN Spain to humbly offer the highest of praise to Zinedine Zidane and his team.
"As a player he (Zidane) was… wow! How I would have liked to have played with him! I had the misfortune of playing against him with the French team. He plays football very well in good times and bad, and I'm glad," said the City boss.
"Although people won't believe me, because he is from Real Madrid, I am very happy that things are going well; it is very good for football. Having done what he has done, winning three Champions Leagues in a row, taking two leagues from Barça ... That shows his ability."
City hold advantage over Real Madrid
City know they hold the cards. To turn the tie around, Madrid must score two goals and concede none against the most prolific team in the Premier League (Pep's side finished the league season with 102 goals, 17 more than champions Liverpool). If City score, Madrid will need three goals, which is a lot for a team that has averaged less than two goals per game this season (98 in 50 games – 1.96 per game).
Nevertheless, Guardiola knows well that the comebacks are part of Madrid's DNA. "We have a good result from the first leg, but if we play like [we did in the first leg], we will have a lot of problems. We have to try to get to the 95th minute saying that we played like ourselves, with the good and the bad," said the City coach.
"We should not think too much about our advantage. If any team can turn it around, it is a great one like Madrid, as well as Barcelona or Bayern. They know these competitions and they know how to play in them. They are a very strong team and they have helped me be a better coach."
Read: €50m on the line for Real Madrid in the Champions League
Guardiola-Zidane: mutual praise
The level of admiration has been mutual between the pair. As players, they met less than a handful of times. At club level, they only met once during a Roma-Madrid (0-3) encounter in 2002, in which Guardiola came on from the bench in the 46th minute and Zidane came off 25 minutes later. The game that Guardiola recalled was the quarterfinals of Euro 2000, in which France beat Spain 2-1, with one goal coming from Zidane. In 2001, they met again in a friendly match at the Mestalla, which La Roja won.
Years later, when Zidane was earning his coaching stripes, he visited Guardiola at training in Munich. It was in March 2015, when he had already become Castilla coach. "We were inspired by what he did. I spent a few days with him, talking about training and how he manages a team and he was very honest. I like how he works, he inspires me. He gave me a lot of advice, they were very interesting talks," Zidane has previously recalled about the experience.
Earlier this year, after learning that Madrid's quarter final opponent would be City, Zidane was again full of admiration for his counterpart. "He is the best coach in the world," said the Blancos boss, then later in an interview before the first leg adding: "He has always shown himself to be the best. At Barça, at Bayern, now at City... other people think that others are the best, but for me, it's him."
"Zidane is one of the best," Guardiola said in response. "When I was a player, I dreamed of playing with him, but it never happened. My impression is that he is an incredible person, I admire him."
They are undoubtedly two of the best coaches in the business by anyone's standards. But only one of them will be heading to the semi-final in Lisbon. And right now, it's advantage Guardiola.