The contract Real Madrid offered Robert Lewandowski in 2013 revealed
Daily Onet Sport unearthed the document which Real Madrid sent to the Polish striker in a bid to sign him in 2014 - duration, salary, signing on fee and clauses.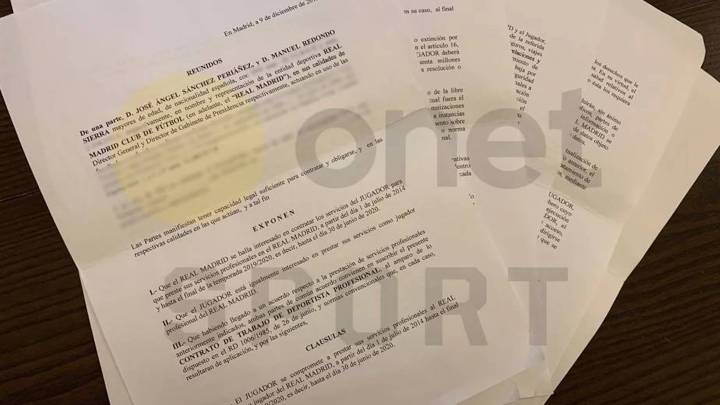 Polish sports daily Onet Sport has published details of the contract which Real Madrid presented to Robert Lewandowski in December 2013 in their attempt to bring him to Spain the following year. At that point in time, Lewandowski was on the books at Borussia Dortmund, but he had already committed to signing for Bayern Munich. Now, Onet Sport reveal the conditions which Madrid put on the table.
Madrid's attempts to lure Lewandowski
Florentino Pérez was determined to sign the Polish forward after watching him tear apart Madrid in the Champions League on 24 April 2013 - Lewandowski scored four goals that night at Signal Iduna Park. After that spectacular display, the Madrid president decided to make the most of the return leg, six days later at the Bernabéu to approach the player and enquire: "Do you want to play for Madrid?". The question was met with a blunt reply: "Talk to my agent". And that is what happened. Madrid got in touch with Lewandowski's representative to put forward a formal offer. Madrid proposed a six-year contract with a pre-tax salary of 8,609,590 euros per season. It would be transferred to his account in two annual payments - the first on 10 February and the second on 10 July. Seeing as it would be a free transfer, Lewandowski would also receive a pre-tax signing-on bonus of 10,957,650 euros on 10 February 2015.
Included in the contract were also a series of clauses which would prohibit him from practicising dangerous sports such as skiing, sky-diving… etc. In the end, Lewandowski decided to stick with the agreement he had in place with Bayern and turned down Madrid's proposal.