Stimulus check: CARES, HEALS and HEROES Acts compared
As the American economy and households continue to struggle amid the pandemic, the Republicans' proposed HEALS Act is the latest step towards more aid.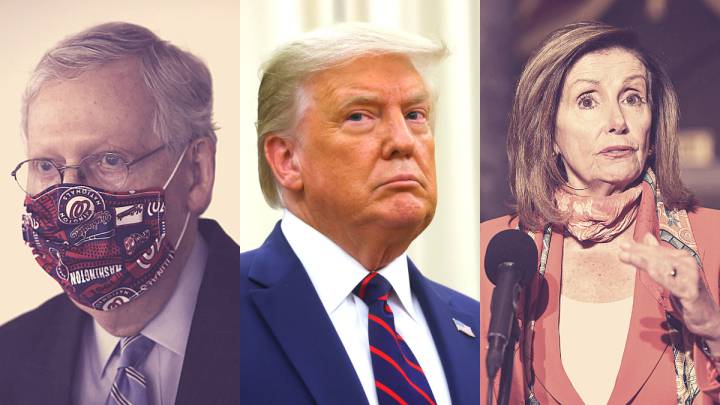 Back in late March, which seems like an eternity ago for many, the CARES Act was signed into law. As part of this relief package, stimulus checks began to drop into people's bank accounts across the United States around a fortnight later.
CARES Act: stimulus check payments
CARES: Coronavirus Aid, Relief, and Economic Security
These payments were sent quickly and efficiently into the accounts of those taxpayers who had filed a 2019 or 2020 tax return. Tens of millions of Americans are said to have already received this payment by 15 April, just two and a half weeks after the legislation was signed into law by President Trump. The payments continued and most filers had their extra money to do what they wanted with by the end of the month.
This was great news for filers, but for others the wait for the much needed financial support was delayed, for some, significantly. Although there had been plenty of warning about the potential of the coronavirus pandemic hitting America - after what was being seen in Asia and Europe - the CARES Act ended up being rushed through and some of the payment processes were far from smooth. The hope is that for the next set of stimulus checks this will be much improved.
Thanks to the CARES Act American households were sent an Economic Impact Payment (EIP) to help them with any hit they may have had to their income. An income limit was set, which meant that $1,200 was paid per adult with adjusted gross income (based on their 2018 or 2019 filing) up to $75,000, adjusted down to zero for those above $99,000. For married couples filing jointly the threshold was $150,000 adjusting down to $198,000. For head of household filers the amount was $112,500 adjusting down to the cut-off at $146,500.
There was an additional payment made for dependents, which saw $500 made available per child under 17 years old, up to a maximum of three dependents per household.
HEROES Act: stimulus check proposal
HEROES: Health and Economic Recovery Omnibus Emergency Solutions
Hopes weren't exactly high once the Democrat-led HEROES Act passed through the House of Representatives by a narrow margin mid-May. Immediately Republicans - and the President - dismissed the $3 trillion aid package proposal, with even Nancy Pelosi accepting that it may only be a starting point for the next round of negotiations.
Within the package there was a push for a repeat of the $1,200 EIPs seen in the CARES Act with the same criteria for income level eligibility. That said, there was a difference with the additional payment for dependents.
Under the HEROES Act provisions the amount for dependents would be increased to $1,200 and those eligible would be expanded to include college students, dependents over the age of 16, disabled relatives and dependent parents. There would be a maximum payment of $6,000 per household (a maximum of three dependents, so $2,400 for the couple and $3,600 for the dependents).
HEALS Act: stimulus check proposal

HEALS: Health, Economic Assistance, Liability protection and Schools
As the summer approached, we didn't see much movement on the new bill although payments continued to drip out from the CARES Act. Then, after a delay, Senate Majority Leader Mitch McConnell finally announced the Republicans stimulus proposal on 27 July, which was presented in the Senate in the afternoon session. The legislation was named the HEALS Act and called for $1 trillion of new funding to help fight the economic effects of Covid-19.
⚡ BREAKING → Senate Republicans just released the HEALS Act.

This is the conservative plan to *finish the fight* against coronavirus:

✓ Provides tools to reopen responsibly

✓ Tailored relief to Americans who need it most

✓ Surge in resources for testing + vaccine pic.twitter.com/lyldH2QQww

— Senate Republicans (@SenateGOP) July 27, 2020
In his statement, McConnell announced that as part of the package there would be another round of $1,200 stimulus checks for individuals, as per the CARES and HEROES Acts.
Once again, the difference lies with the criteria over dependents, with the HEALS Act looking to expand the remit to include those named in the HEROES Act (college students, dependents over the age of 16, disabled relatives and dependent parents) however rather than increase the amount it would follow the CARES Act at $500 per dependent.
Second stimulus check: when will it be agreed?
Congress will go into recess on 7 August so this is seen as the deadline for getting the bill passed and signed into law. There are a number of other factors in play, Republicans are very keen, for example, to ensure no business owners can be sued if an employee contracts Covid-19 after returning to work, and so the negotiations will likely continue until then.
Where it ends up, nobody is sure, but with the pandemic expected to continue to impact on lives and the economy for some time to come, compromise by all sides is required, with aspects of CARES, HEROES and HEALS all in the mix. And this could be further influenced by other proposals being put forward, such as the $1,000 payment to adults and children from GOP Sens. Bill Cassidy (La.), Steve Daines (Mont.), Mitt Romney (Utah), and Marco Rubio (Fla.).