Stimulus check: will Trump executive orders include second payment?
After White House officials and Democrat leaders missed Friday's deadline to agree a coronavirus relief package, the president has said he plans to take executive action.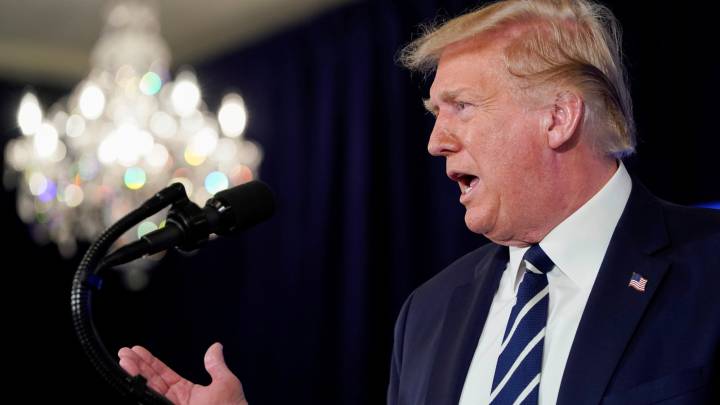 President Donald Trump has said he is preparing to take executive action to extend relief measures in the United States after White House officials and Democratic congressional chiefs missed Friday's self-imposed deadline to reach an agreement over a coronavirus aid package.
Relief-bill talks between Dems, White House chiefs fail
Treasury Secretary Steve Mnuchin and White House Chief of Staff Mark Meadows met with Democrat leaders Nancy Pelosi and Chuck Schumer on Friday in a bid to thrash out an 11th-hour outline deal, but after discussions that reportedly lasted for more than two hours, the negotiations ended without an agreement.
"My administration continues to work in good faith to reach an agreement with Democrats in Congress that will extend unemployment benefits, provide protections against evictions […] and get relief to American families," Trump told a news conference at his golf club in Bedminster, New Jersey on Friday evening.
"I will act under my authority as president to get Americans the relief they need"

Accusing Pelosi and Schumer of insisting on "radical left-wing policies that have nothing to do with the 'China Virus'", Trump added: "If Democrats continue to hold this critical relief hostage, I will act under my authority as president to get Americans the relief they need."
Trump said he was ready to push through executive orders on four issues: deferring the payroll tax until the end of the year; extending enhanced unemployment benefits until the end of the year; deferring student-loan payments and forgiving interest on student loans "until further notice"; and extending a moratorium on evictions.
Trump said he was planning to sign the executive orders "by the end of the week".
Trump prepared for legal challenges to executive action
Asked about the prospect that he will face legal challenges if he takes such measures without the approval of Congress, Trump said: "You always get sued. Everything you do you get sued. But people feel that we can do it."
Pelosi: "It's hard when your values are so different"

Speaking on Friday, Pelosi said she and Schumer had sought to meet Mnuchin and Meadows in the middle over the overall cost of a relief package, telling reporters they had offered to slash the $3tn spend sought by Democrats' HEROES Act if Republicans increased the $1tn cost of the HEALS Act, GOP senators' proposed bill.
"We've been mightily trying to find common ground with our colleagues," Pelosi said, per The Hill. "It's hard when your values are so different." She went on: "Yesterday I offered to them: we'll take down a trillion if you add a trillion. They said absolutely not. If we could do that - if we take down a trillion and they add a trillion, we'll be with in range."
Enhanced unemployment, state and local aid at heart of failed talks
The chief specific issues that have led the negotiations to founder are reported to be enhanced unemployment insurance - Democrats wanted to extend a $600 weekly benefits boost until the end of 2020, while Republicans proposed significantly lowering this figure - and how much to spend on financial aid to state and local governments. Pelosi and Schumer sought $915 billion, an amount Mnuchin and Meadows were unwilling to countenance.
No stimulus checks until relief bill signed into law
One area where there appears to have been less conflict is the distribution of another stimulus check. Democrats and Republicans agree that a second check is needed, and there are few major differences between their proposals for what this direct payment should look like.
Both the HEROES Act and the HEALS Act seek to give checks of up to $1,200 to individuals on under $75,000, with steadily smaller payments also available up to a final income limit of $99,000. Where the proposals differ is on issues such as the figure households could claim per dependent ($1,200 in the HEROES Act, $500 in the HEALS Act) and whether or not to include immigrants without a Social Security number (HEROES says yes, HEALS says no).
However, it looks like another batch of checks, officially known as Economic Impact Payments, will have to wait. "[Stimulus checks] will not go out until legislation is agreed upon and signed into law", Forbes notes. "As a result, the time table for the second round of stimulus checks is unknown."
Indeed, it has been suggested that Trump's executive orders could "kill" negotiations over a fifth coronavirus package, leaving plans for a second check up in the air.
Live coverage of the coronavirus crisis
You can stay up-to-date with the latest developments in the coronavirus crisis in the U.S. by following our dedicated live blog.