Chivas loses to Puebla in third week of 2020 Guardianes tournament
The team from Guadalajara lost its second game of the 2020 Guardianes tournament and is yet to score a goal in the three games it has played.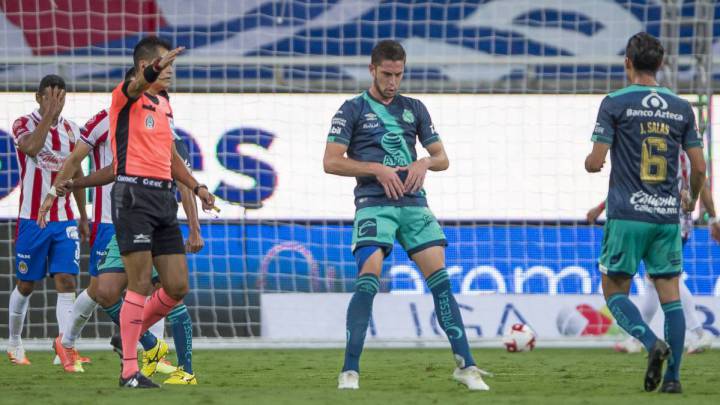 It only took Chivas three weeks to realize that they are in a crisis in this new 2020 Guardianes tournament. With a single goal from Santiago Ormeño, Puebla defeated the team from Guadalajara, who suffered their second loss in three games. Chivas also remains scoreless in the tournament and only have one out of a possible nine points.
Ormeño strikes in second half to beat 10-man Chivas
Chivas was inferior during the whole game because they only had 13 shots, two of which on target, and only 44% of the possession, while visitors Puebla had 15 shots, three of which on target, and had 56% of the possession. To top off the bad night, Chivas' Eduardo Torres got a red card in the 35th minute and left his team with 10 men for the rest of the game.
Even with 10 players, Chivas managed to return to the locker room with no goals conceded after Antonio Rodríguez blocked a shot from Omar Fernández in stoppage time. The home team returned to the field with a positive attitude and in the 48th minute, José Juan Macías shot from outside the box and the ball just missed the goal.
It was not until the 56th minute that Chivas would knock on Puebla's door. Jesús Molina crossed the ball for Uriel Antuna inside the box and he failed to put the ball on target. The visiting team responded in the 63rd minute, when Ormeño scored the first goal of the game at the Akron stadium. The striker volleyed the ball and there was nothing that Rodríguez could've done.
Chivas creates unwanted piece of history
Chivas set a new record in the history of the club because it is the first time that they have failed to score a goal in their first three games. They have suffered two losses and one draw in the 2020 Guardianes tournament. Their next match will be against Juárez on Wednesday 12 August.