Real Madrid: 9 players Zidane has at the exit door
Gareth Bale, James Rodriguez and Luka Jovic are three of the nine players who Zinedine Zidane would be happy to offload this summer at Real Madrid.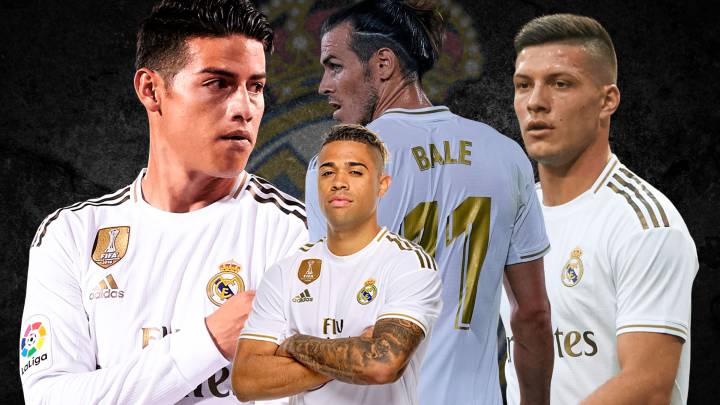 Real Madrid's LaLiga title victory was a major achievement for Zinedine Zidane at a time when such honors have been somewhat fewer and far between in comparison to recent Champions League successes.
But bowing out of the Champions League at the last-16 stage for the second year in a row has been a major embarrassment for the most successful club in the competition's history. Following a limp defeat by Manchester City at the Etihad last week, the board and manager will no doubt be discussing certain players the club may look to unload before the start of next season, where repeated failure in Europe for a third year running will be as much unforgivable as inconceivable.
Below, we list nine players who are in the firing line, starting with none other than the Spanish capital's most unpopular Welshman.
Gareth Bale
Bale's performances, extremely poor attitude and thorny relationship with Zidane will no doubt have placed him at the top of the Madrid coach's exit list. "If Bale leaves tomorrow, then great!" said Zizou last summer, and no doubt his feelings have not changed on the matter. Bale has had one foot at the exit door on several occasions. But with the now total-and-utter breakdown of his relationship with Zidane and the fans, culminating with his request to be left out of the squad for the City game last week (by Zidane's account), the Welshman's departure may finally become a reality. Although his agent, Jonathan Barnett, continues to insist the golf-loving winger is going nowhere.
James Rodriguez
As what happened with Bale, the embarrassing 7-3 defeat to local rivals Atlético Madrid in a pre-season friendly in the U.S. last summer, coupled with the ACL injury that kept Asensio out for the majority season, prompted Madrid to hold onto the Colombian following his return from a two-season loan spell at Bayern Munich. Like Bale, his poor relationship with Zidane does little for his cause at the Bernabéu, and neither has his poor season, in which he featured on just 14 occasions, netting one goal. Zidane and the club will undoubtedly be open to any decent offer that comes in for the 29-year-old midfielder.
Luka Jovic
He was bought last summer for €60 million by a Madrid in need of a striker to help fill the gaping lack of goals that emerged following Cristiano Ronaldo's move to Juventus a year earlier. But, alas, those goals have not come for the 22-year-old Serbian, who has struggled to win Zidane's confidence and has several offers on the table from top European clubs. In 27 appearances this season, the former Frankfurt wonder kid could only manage two goals, in stark contrast to the 27 he had scored for the Bundesliga side in 2018-19 that put him hot on the radar of Europe's elite. The €60 million euros spent on Jovic is now looking like a poor investment, with his value having now plummeted to $32 million. It might be high time for Madrid to offload him before it falls any further.
Isco
Isco has been close to the exit door for years now, but his walk through it may finally happen this summer. The Malaga-born midfielder remains a target of Juventus and the Serie A club's new coach, Andrea Pirlo, has expressed his admiration for him on several occasions. Isco started just 15 LaLiga games this season, scoring just one goal.
Mariano Díaz
Mariano has been the player least called upon by Zidane this season. Having made the move from Olympique Lyon for €22 million to much fanfare in 2018, Mariano has been unable to carve a place for himself under Zidane, nor could he with the French coach's predecessors Santiago Solari and Julien Lopetegui, who was in charge when he arrived. The Domincan-Spaniard featured just seven times this season, down from 22 appearances in 2018/19. His transfer would be a positive move for all sides concerned.
Brahim Díaz
Brahim is another Díaz over whom Zidane would not lose sleep should he move on. Bought from Manchester City for €17 million last summer, the 21-year-old midfielder made just 10 appearances this season. His potential is unarguable; meaning a loan move to a lower ranked Spanish club (á la Odeegard) could do wonders for his experience building. Getafe and Real Betis have been linked with the youngster, as has Premier League outfit, West Ham.
Lucas Vazquez
This season, Lucas has been a shadow of his former self, and his lack of game time could prompt him to seek an exit this summer. His downfall has been inextricably linked with the rise of young Brazilian pair, Vinicius and Rodrigo, who are now higher up the pecking order than the more experienced 29-year-old winger, who also had a bad run of luck with injuries this season, it must be said. Tottenham are reportedly interested.
Nacho
Nacho was close to leaving last summer due to an offer for Roma that in the end did not materialize. With Madrid looking for another central defender, there will be no place for the Spaniard come next season. Having featured on just 10 occasions this season, now may be time for the academy graduate to bring an end to his 13-year relationship with the club, which began in 2007 at Juvenil B.
Marcelo
The veteran left back has been overshadowed by Ferland Mendy since the Frenchman's arrival summer. It is the first time that Marcelo has lost his regular starting position during his 13-year career at the Bernabéu; and the 32-year-old's value has fallen from a peak of €70 million euros in October, 2018 to €16 million currently. Juventus have long been interested in him and a chance to reunite with his fellow Lusophone, Cristiano Ronaldo, in Turin could be enticing. No doubt his former team mate would look favorably on such a move.