Portland Timbers win 'MLS is Back' Tournament
Portland were triumphant against all odds in Orlando, defeating Orlando City 2-1 in the final to lift the 'MLS is Back' trophy.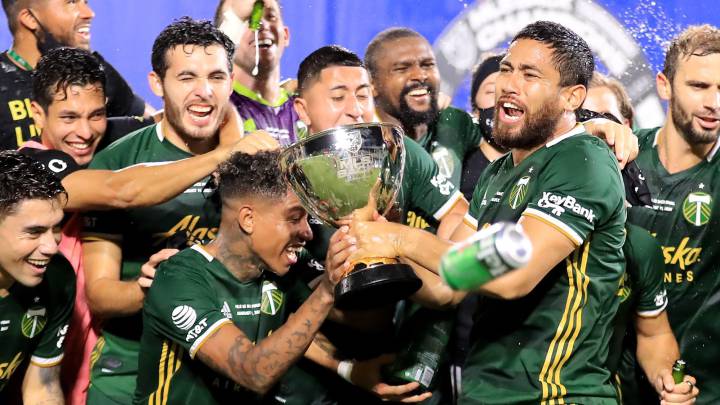 Portland Timbers and Orlando City arrived to the final of the 'MLS is Back' tournament as the two best teams in the coronavirus-free 'bubble' that is Orlando. The game was very even, as although Orlando City had the majority of possession (64%), Portland had more shots on target (6) at the end of the 90 minutes.
The Timbers opened the scoring in the 27th minute with a magnificent cross from Diego Valeri, from which Larrys Mabiala headed the ball home. Orlando responded by going all-out attack with Nani their most active player. And on the 38th minute, the Portuguese captain played a low cross from the left that found Mauricio Pereyra, who controlled the ball at the top of the six-yard box and scored with a half-volley to tie the game at 1-1.
Orlando were clear favourites going into the game
On the road to the final, Orlando City had been the best team in the tournament and in the first 45 minutes they demonstrated that, leaving Portland Timbers in need of a response. And in the 64th minute, Diego Valeri's freekick was just kept out by City's goalkeeper Gallese.
One minute later the Timbers took advantage of a series of rebounds inside the box after a corner kick and Dario Zuparic found the net for the second and final goal of the game. Orlando City used up of all of their substitutions in a bid to find the equalizer but failed to force the penalty shoot out.
Ready to resume the season
Having conquered Orlando, the Timbers will enjoy some well-deserved celebrartions before preparing for the restart of the 2020 MLS season. The Oregon franchise host Seattle Sounders on 23 August and then three days later fly to California to face San Jose Earthquakes.