Modric has earned his right to Real Madrid renewal
Luka Modric started the season badly but finished at an outstanding level. He wants to stay beyond June 2021, but he is set to face competition from the returning Martin Ødegaard.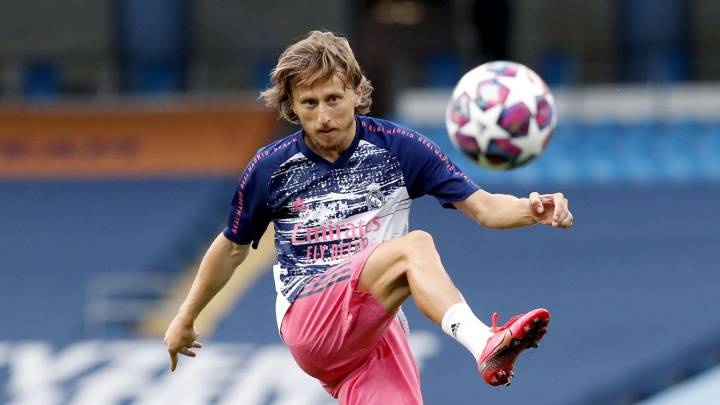 Luka Modric has offered a fine example of how things are not about how they begin, but how they end. Talking about his contract renewal in September was very different to doing so now. Before lockdown, the Croatian midfielder, who turned 34 in September, had been hit by injuries and lost his regular starting place, while his performance levels had been well below par.
It was as if winning the Ballon d'Or had made him too relaxed. But now everything has changed. His post-lockdown performances were outstanding. He was one of the main driving forces behind Madrid's LaLiga title-winning form over the course of the final 11 games, in which Los Blancos remained unbeaten, winning 10 and drawing one.
The context changes for Modric at Real Madrid
With his contract set to expire in 2021, it will be difficult be difficult for Madrid to deny Modric a renewal based on his performance levels. Inter Milan's interest in December, 2018 prompted Madrid to up the ante by offering the midfielder a big salary jump that put him among the squad's highest paid members, Sergio Ramos and Gareth Bale.
But now the context is different and he knows it. His football is exquisite, but he is close to turning 35 and it is logical that Madrid will be already considering his replacement. Luka will adapt to the situation without question, as he wants be a solution and not a problem. Therefore, he will be willing to take a salary cut to ease the financial burden on the club, which will allow him to continue.
Modric's absence due to injury spells earlier on this season opened the door for Fede Valverde, who ended up settling in a big way – so much so that Real Madrid began consider that Modric's time might have been up. But that forced him to wake up. He participated in every league game from matchday 11 to 32, a run which was only brought to an end due to a suspension in game 33 for an accumulation of yellow cards. He progressively went from less to more, and by the season's end, had managed an average of 49 successful passes per game.
He netted five goals: three in the league, one in the Champions League and one in the Spanish Super Cup. In total, he played 2,631 minutes across all competitions, making him the ninth highest player in terms of minutes played, ahead of others like Marcelo (1,854'), Vinicius (1,817') and Eden Hazard (1,545').
The leadership and authority he exudes from the team's engine room is a brand of its own. Playing at his best, Zidane considers him indisputable and has reflected that in his starting line-ups. He started in the key night against Man City last week, coming off on 83'. It was not his best game, but neither was it for the team as a whole.
Ødegaard

's shadow lurks
But next season, Modric is set to face renewed competition in the form of up-and-coming Norwegian playmaker Martin Ødegaard, who, following a one-year loan spell at Real Sociedad, will return to the Spanish capital after Madrid decided to pull the plug early on a two-year verbal agreement with Real on the request of Zidane.
As things stand, Modric's contract expires next season and Ødegaard is vying to be his replacement. But Madrid can also opt for a smooth transition: let Modric continue for a couple more years while Ødegaard grows into the role of regular starter. But the Norwegian must do so by his own merit, because Luka appears to have no desire to step aside.