Ødegaard thanks Real Sociedad family: "I'll always be a 'txuri-urdin'"
The Norwegian thanked Real Sociedad and their fans and wished them well before making is return to Real Madrid. His well wishes were reciprocated by the club.
Martin Ødegaard will spend next season at Real Madrid. Zidane personally called the player to tell him the news. But before returning to the capital, the Norwegian midfielder was keen to say his goodbyes to Real Sociedad, the club where he spent the last 12 months on loan. Ødegaard arrived in San Sebastián last summer after spending two years out on loan in Holland, and it was at the Basque club where he really took off as a player, and where he showed that he deserves a place in Zidane's squad.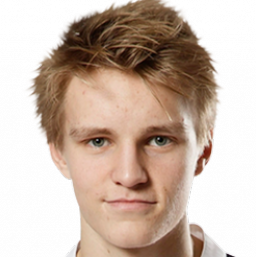 "Hello Txuri-urdin family. I would like to send you a message to say goodbye and also to say thank you for what has been an unforgettable year for me", the player began in a video message which La Real published on their official web page, overlayed with images of some of his best moments with the club. "I've enjoyed some great times at Real Sociedad, from the day of my presentation, my first goal for the club, the team ending in the European places and making the Copa del Rey final…".
"We'll never forget the enjoyment you brought us"
Real Sociedad also had kind words to say as they thanked Ødegaard for his involvement in helping the team reach the Copa del Rey final and qualify for the Europa League. The Norwegian, who continued playing with an injured knee to help the team out during the final weeks of the campaign will always be fondly remembered in San Sebastián.
"It's difficult for a player to make such a big impression in such a short space of time, but Martin Ødegaard did precisely that here at Real Sociedad." the club replied in their own farewell message. "He is leaving us to return to Real Madrid, but we will never forget everything you did to help us enjoy this unforgettable season. For his goals, football, character, effort and humility, Martin will be remembered with great affection by the whole Real Sociedad family. Thank You Martintxo, we wish you all the best for your future" the Basque club wrote.